Does Your Online Bank Have the ATM Network You Need?
When it comes to choosing online banks, having an extensive ATM network doesn't always rank high up on most consumers' criteria. But depending on your spending and saving habits, having easy access to fee-free ATMs can spell the difference between savings and cost, inconvenience and accessibility.
For online banks with brick-and-mortar retail branches, this wouldn't be much of an issue as most banks, depending on their size and locations, deploy their own ATMs which even online accountholders can access for free. For instance, Bank of America® has over 18,000 ATMs across the country, HSBC has 17,200 bank-owned machines, more than 600 of which are found in the US, and Citibank has 3,200 ATMs plus 5,800 more in 7-11 stores.
On the other hand, online banks which do most of their banking transactions with the internet as the main platform have to make the necessary affiliations with other ATM networks in order to provide their customers with convenient and free options to getting cash.
Here's what you can expect from the top online banks when it comes to using their cash cards, typically referred to as check cards or debit cards.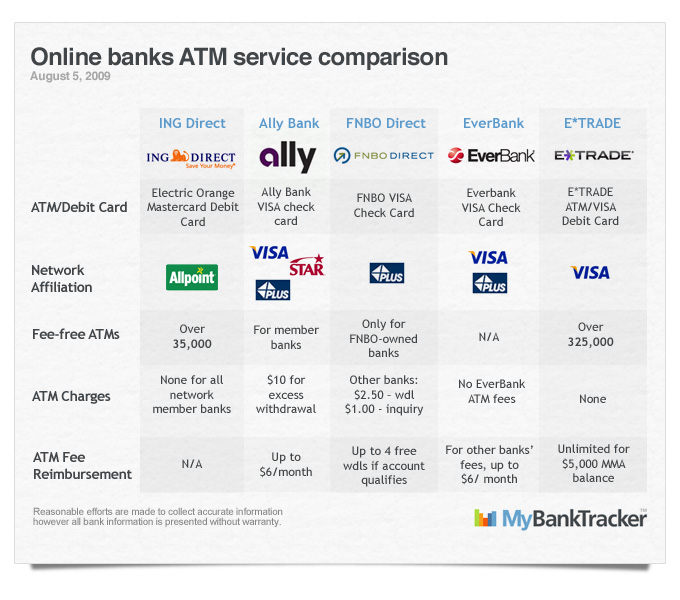 As you can see, even if you go for an online bank, there's no reason why you should be burdened by exorbitant ATM fees some operators may charge. A few of these online banks may even offer more options for fee-free ATM transactions, or unlimited ATM fee reimbursements.
So the next time you think of opening an online savings or checking account, it might be well worth your time to consider not only the interest rates offered, but also the best deals for ATM usage. A few dollars here and there could add up to a lot especially given the tough times.
Ask a Question