Chase +1 Is A Student Credit Card With A Little Bit Of Karma
Trying to build your credit is never an easy task. It takes time and patience. Especially in today's climate where being under the age of 21 has pretty much deemed it almost impossible for your to get a credit card without the co-signature of a parent. So what does this mean for students trying to come out of college with some sort of credit in hopes of renting an apartment? Enter the Chase +1 Student Credit Card program.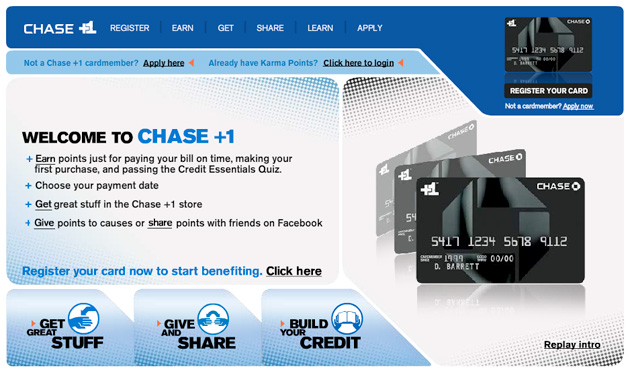 Chase +1 is specifically designed for those with little or no credit history, giving individuals the ability to build there credit fast by providing a generous credit line and no annual fee. What differentiates Chase +1 from any other credit cards of its kind is its effort to really help cardholders master the art of building credit through the tips and tools. Additionally you can earn points called "Karma" for paying on time and completing quizzes. Members can apply Karma point towards gifts, such as concert tickets, DVDs or instead donate to a great cause, like the World Wildlife Foundation. Unlike many other no-credit credit cards, Chase +1 comes with standard features such as account management, Chase mobile, and no annual fee. A great move by Chase to influence users early on to start using the multiple features available from the institution.
Chase +1 credit card comes with an introductory rate of 0% for 3 month on purchases. But after the introductory period, the rate increases to 14.99%. So be warned that the card is not designed for large balances. If you are someone who pays their balance in full then the Chase +1 card is a great credit-building tool.
Lastly, if you are an active Facebook member, you may want to consider joining the Chase +1 group where you can challenge, share and trade Karma Points with over 45,000 fans.
Ask a Question