Six Reasons to think or rethink a "Cash for Clunkers" car purchase
The Cons
1. You may end up paying more. The direct effect of the Cash for Clunkers program, is that cars are being sold at higher prices. Dealerships are not extending big discounts as before. Jeremy Anwyl, CEO of Edmunds.com, says this is the worst possible time to introduce this program, since it has cut into the summer sell-down, which already produces a flurry of activity and sales. The higher prices are being driven by the rush of the program and the fact the manufacturers have cut production in response to the bad economy. In a nutshell, demand is even higher at a time when supply is lower than usual.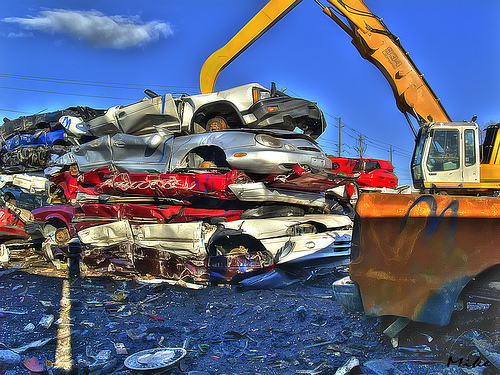 2. The program is not very green after all. The $1 billion that is backing this program is really only enough to fund the trading in of about 250,000-300,000 vehicles, which is a drop in the bucket compared to the average of 16 million new cars that are sold each year and 254 million registered vehicles in the US. Factor that in with the average new car that is being acquired through Clunkers is only fuel efficient by 9 miles per gallon, and we are talking not a very big impact at all on the environment. The calculation is that we would be saving 56 million gallons of gas every year with these new vehicles. Unfortunately, this is only 0.04% difference when you look at the the 138 billion gallons of fuel being burned each year by Americans.
3. The higher sales may produce between $7.7 billion and $11.2 billion of debt. While the Cash for Clunkers program has recently boosted some business, as car dealerships are seeing real increases of sales, buyers are still, in fact, borrowing to purchase these vehicles. The program has also sparked sales of bonds backed by auto loans. Wells Fargo Securities reports that sales may be as high as $11 billion in these bonds. However, it's important to remember that this is still asset-backed debt; meaning this may not be the safest bet in an economy already deeply entrenched in debt and still-soaring unemployment numbers.
4. It hurts car-related businesses. Some repair shops and used car dealerships have seen a decline in the amount of work and purchases directly due to the the program. What some consumers don't know is that their vehicles could actually be repaired to get better mileage for a lot less than the purchase of a new car; not to mention that a used car with better fuel economy could also be purchased for a lot less. Even some car dealerships that have seen a significant rise in their sales through the program, are treading carefully. The costumer sees an automatic payoff at the dealership, but the dealerships themselves, must apply for the money from the government program. There is a possibility that after handing out cash to the costumers, the program itself may run out of money, leaving the dealership to foot the bill.
5. More cash for clunkers, less cash for solar energy. Apparently, the $2 billion that is being used to extend the program is coming directly out of the renewable energy budget. This is bad news for solar energy, which up until now has been on a fast upward climb. Not only will it mean less money for the DOE loan guarantee program, but also a negative impact for all solar stocks. And while there might be less gasoline being burned each year, it may also mean less solar energy being produced.
6. The Cash for Clunkers program may hurt some charities. Many charities like Texans Can (TX) and Many Motors (Ventura, CA), who receive funding and resources through donations of such "clunkers" have seen a decline in donations, which could mean a significant drop in cashflow and resources. Donated vehicles make up a significant amount of funding for many charities such as Goodwill Industries International, Inc. and the National Kidney Foundation, so this could translate to even more dire times for those in need. On the other hand, a few charities like Good News Garage in New England, who refurbishes donated vehicles and provides them to struggling families at a low cost, and Goodwill Industries of Texas have surprisingly seen an increase in donations with the onslot of the government-backed program, as those who do not qualify are finding their way to charities. For the most part, the consensus in the charity circle is that Cash for Clunkers is bad for those who are needing the most during the hard economic times. However, others like Daniel Borochoff of The American Institute of Philanthropy, feel that while the short-term effects are negative for those directly impacted by the drop in donations, that the overall effect of the program as far as giving a cash break for those could not normally afford a car, as well as the environmental benefits, are positive. Only time will tell how much of a negative impact the program will have on charities and struggling Americans nationwide.
The Pros
1. Cash for Clunkers deal drives auto sales. Naturally, car sales were at the highest this July with the introduction of the program, as consumers have started to take advantage of the program. There has definitely been a rush to the dealerships recently, and sale numbers have been notably higher than the same time last year. Keep in mind that $4,500 is a meaningful amount and not a small chunk of change to most Americans during these times.
2. Reduces dependancy on foreign oil. The extension of the program will see triple the 56 millions gallons of fuel being saved each year through the initial implementation of the program. This is a significant amount of savings, and will lead directly to less consumption of foreign oil.
3. It's great to have new car! The reality is that a lot of Americans, who would not normally have the cash or the incentive have been motivated by the program to purchase a new vehicle. These are Americans who would continue to drive their gas-guzzlers and/or who have never been able to afford their "dream" car. It has certainly spurred a lot of excitement and purchases, fueling the automotive industry. It's also has consumers enthused at saving money with fuel efficiency.
Ask a Question