U.S. banks will gather a record of $38.5 billion in overdraft fees
As the recession plummets upon us, we would hope that the government and financial services, such as banks, would do all that they can to help ease the clamor and chaos. Depending on your bank and credit score, you just may be one of the few rescued from overdraft fees, or someone continually traumatized by them.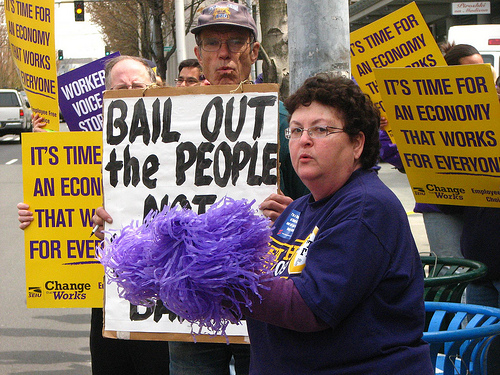 In 2000, 19.9 billion was collected in overdraft fees, but 9 years later such colossal numbers have nearly doubled in spite of the recession. "Overdrafts are the mother lode of all service-related charges, and they're often the only source of capital," said Mike Moebs, chief executive of research company Moebs Services. "Still, we had never seen fees go higher in any recession until now." According to research reports, U.S. banks will gather a record of $38.5 billion in overdraft fees this year, with nearly all the revenue paid by just 10% of customers – a percentage made up of mostly consumers with credit scores in the lower range (below 590).
The national median overdraft fee rose by a whole dollar from $25 to $26 in 2008, while larger U.S. banks charge a norm of $35. Moebs stated that, such fee increases have helped banks enhance profit in the midst of the recession. Additionally, government-mandated overdraft fee increases are no big help. For example, if a U.S. post office decides to increase its overdraft fees, retailers note the increase in profit and decide to raise their own fees. Consequently, banks follow this trend in hopes of raising revenue and net income.
Banks have agreed to stop overdraft fees
Fortunately for some, the Federal Reserve and other lawmakers are discussing rules about overdraft fees, and some banks have agreed to stop overdraft fees. As of earlier this week, American Express and Discover Bank have agreed to drop the overdraft penalty, which will take place starting this October. This is due to the Credit Card Accountability, Responsibility and Disclosure Act, which prevents card companies from charging clients unless they "specifically ask to breach their limit and agree to pay for the privilege." While other banks are not about to give up the fees that benefit them, they are complying by not raising fees. For example, a JPMorgan Chase spokesman told CNN that his company has not raised overdraft fees from 2008. Instead, Chase Bank charges overdraft fees depending on number of times it occurs ranging from $25 to $35. A Bank of America® spokeswoman also said the bank decided not to raise the $35 fee. Capital One and Citigoup are considering following these footsteps as well.
Hopefully, some larger Wall Street banks will take notice of letting the reigns loose on overdraft fees, and help consumers during the struggle of the recession by minimizing or putting a hold on their unfair charges.
Ask a Question