Citigroup decides to end its "myFi" Financial Wellness Program
Citigroup's myFi (My Financial Life) program aims to offer investors with under $500,000, the financial equivalent of a personal coach. Managing debt and credit, financing a home purchase and educational expenses and preparing for retirement are the kind of major monetary issues that challenge even the most financially astute and therefore it is easy to understand the appeal of this coaching service.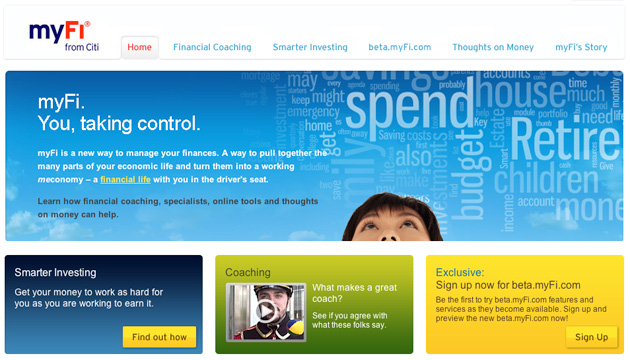 Each participating customer is entitled to a thorough analysis of their financial life and assistance in drawing up an individualized set of financial priorities to help them sort out their affairs and keep them moving in the right direction. Over the past five years myFi has offered customers services such as:
A financial program tailor-made to meet the customer's priorities
A dedicated coach who can provide personalized guidance and give the required support
Access to Certified finanCial Planner™ professionals and other expert consultants plus the chance to participate in financial seminars
Availability of a telephone service to answer financial questions outside regular banking hours
Expert assistance managing investment accounts to help realize specific goals.
The costs
At the moment myFi is advertised as on offer for just $50 a month for a limited time and this fee covers all expenses. Cancellation within the first two months entitles the participant to a full refund.
To benefit from the managed investment account a minimum of $2,500 must be invested. There are no additional fees for investment between this amount and $100,000.
myFi's Pending Demise
Citigroup was rated as the third largest US banks judging by assets, and it was one of the high profile victims of the 2007-2008 banking crisis. Following its rescue by the US government in November 2008 it has been engaged in a serious reassessment to determine which of its activities it makes sense to continue and the MyFi financial coaching program did not make it onto this list. Although myFi is still being advertised by Citigroup Inc., it is due to end in its current format.
The lost of referrals from the Smith Barney brokerage (sold off in May 2009) seems to be a key reason in the decision to end MyFi. The service is being re-branded and merged into the Citi Personal Wealth Management division that has provided similar services for wealthier investors. One of the reasons given for the move is to avoid subjecting customers to the inconvenience of being moved from one support platform to another if their investment values rises beyond a certain level. The replacement for MyFi is going to be primarily Internet and Call Center based with the platform made available to all customers.
The extent that remote wealth management is going to appeal to existing and future potential customers is uncertain. Some financial commentators feel Citibank faces an uphill struggle to improve customer confidence following the negative exposal it received last year. While investors do need to be warned that the bank's investment products are not insured by the FDIC or any other Federal agency, that they have no bank guarantees and they may lose value, more encouraging news would also be welcome.
Ask a Question