Much has been said about saving up, paying off debt, and minimizing expenses especially in these financially challenging times. But have you also considered putting away part of your extra funds in a Health Savings Accounts or HSA?
Since HSAs are tax-free and income tax deductible, more individuals and families are encouraged to secure their future by means of a manageable and cost-effective health plan. In the same manner, with the growing demand for better health care financing options, more banks are now offering Health Savings Accounts as part of their array of deposit products.
If you already have a High Deductible Health Plan that your employer has established for you, then it's high time you go looking around for the Health Savings Plan that will maximize your savings and your benefits.
So what goes into a consumer-friendly HSA? In a nutshell, these are the features that you should look for in a HSA: low initial set-up costs, low monthly fees, high interest rates, and easy access to your funds.
To give you an idea of what most HSAs offer, here are some Health Savings Accounts that are worth checking out: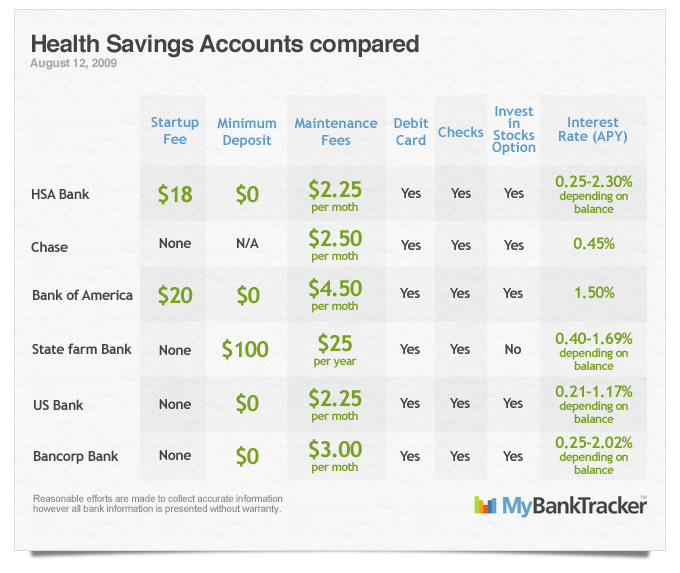 Notes on opening an HSA
Signup fees, maintenance costs, and rates for an HSA vary from bank to bank. As when making any other type of investment, it's important to ask questions and get the full information before finalizing anything. Some important concerns that you should raise are:
FDIC Insurance Coverage. The basic HSA is covered under FDIC. However, most banks offer you the option of investing in stocks or mutual funds when you reach a certain balance in your HSA. While you could stand to earn more on your funds, in most cases, that separate investment is no longer FDIC-insured.
Possible savings on maintenance fees. Some banks offer waivers for the monthly fees if your account reaches a certain balance. You could earn yourself a few more dollars every year if you save up for these minimums.
Other fees. Since HSAs are withdrawable via debit cards or checks, the same fees for ATM withdrawals, check ordering, overdraft, and additional services may apply.
The scope of your responsibilities. Enforcing contribution limits and deciding on qualified expenses are your accountability. Make sure you are properly briefed on what your bank takes care of and what you need to be responsible for.
How contributions are made. Know how you can make contributions to your account and who can contribute to it. The easier and the more options, the better. This way, you can maximize the saving and earning potential of your HSA.