CD Rates This Week: Fed Says Recovery Is Near But CD Rates Fall Some More
Even as the Federal Reserve boldly declared only this week that the recession was coming to an end, its benchmark short-term interest rates remained low at 0% to 0.25%, further saying that rates "will stay low for a longer period of time."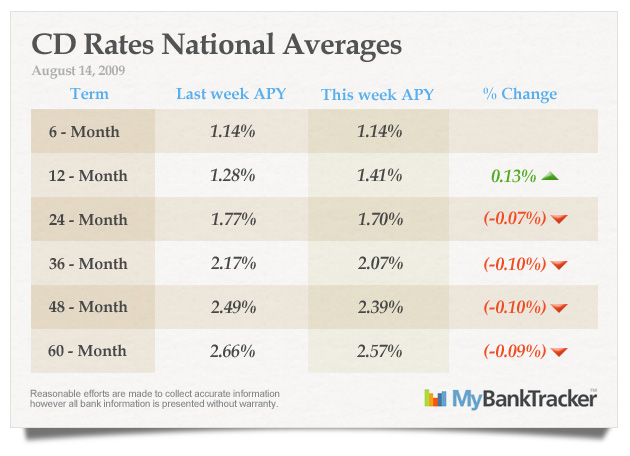 As a result, banks' CD rates continued their slide down to lower rate averages this week. Of the banks tracked by My Bank Tracker, CD averages for all but one term — the 6-month CDs — dropped some notches lower than last week's figures.
6-month, 12-month and 24-month CDs
CD rate averages for the 6-month term remained relatively unchanged, settling at a 1.14% average APY. On the other hand, more banks cut their interest rates for 24-month CDs, which dropped by 0.07% respectively.
36-month, 48-month and 60-month CDs
With the next few years still a picture of uncertainty, the long term CDs were even less enticing. CD yield averages fell by more basis points than the shorter term CDs. From last week's 2.17% average, this week's 36-month CD rates now only average at 2.07%. APY.
The same steep descent is also evident in the 48-month CD rate average which nosedived by a whooping -0.10%; from 2.49% last week to only 2.39% this week.
The Fed is perhaps one of the most reliable institutions which can make more accurate statements as to how far the country is from recovery. So if they say that the economy may have finally hit bottom and there's no other way but up, then we'd be happy to take their word for it.
Now if only they could also raise the deposit interest rates some, then the individuals and families who are still disciplined and privileged to be able to put away some savings, will have reason to be more enthusiastic about this economic recovery that's said to be in the offing.
Ask a Question