Top CD Rates Remain Relatively Unchanged
More banks dropped their CD rates in the last few days, causing major plunges on the national CD average rates as monitored by My Bank Tracker. This is no major surprise in the light of the Fed's announcement last week that it intends to keep benchmark interest rates at low levels for a longer time.
Therefore, while this week's list of the top CD rates is practically a mirror of last week's roster, it should still give current savers and potential depositors some of the best CD yields even while rates remain at the lowest levels ever seen for a long time. Here's a recap of this week's highest CD rates: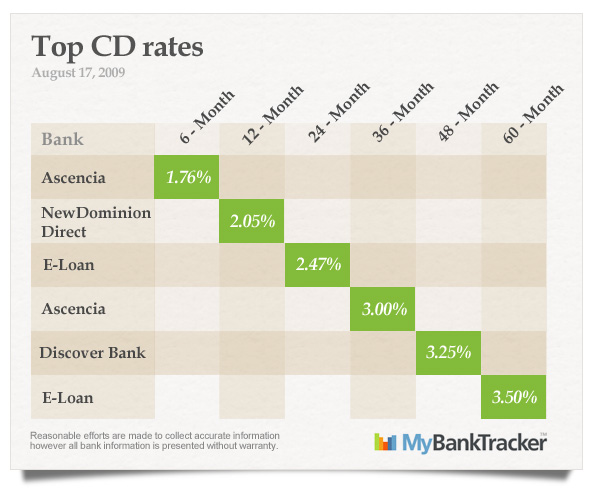 Pitting the 36-month, 48-month and 60-month CDs against the national averages, you will see that with the falling averages, the gap between these rates and the CD averages have become even wider.
Other Investment Alternatives
EverBank
If you have some amount that you can stash in the bank for a short period of time, a great alternative is Everbank's Yield Pledge Money Market Account. It offers an initial 3-Month Bonus Rate of 3.01% APY, which is many times better than a 3-month CD currently at an average of 0.71% APY.
Ally Bank
Ally Bank is still offering a 9-month No-Penalty CD and while the yield has lowered from its initial interest rate to the current 1.85% APY, it is still worth a try especially considering that you won't be charged a fee if you decide to transfer your deposits elsewhere before maturity.
Security Savings Bank
Security Savings Bank is still promoting its 17-month CD with a 2.47% APY, a rate that is higher than most 2-year CDs except for this week's best 24-month CD rate.
For a complete list of the interest rates currently offered by your bank, check out our CD rates page.
Ask a Question