Guaranty Bank Couldn't Really Guarantee Their Success
FDIC today announced that Guaranty Bank will taken over by BBVA Compass. Depositors at Guaranty need not worry as business as usual will continue at each branch and online, the only exception being under the ownership of BBVA. This is just the most recent casualty of the economic downturn in a steady stream of failed banks that have been taken over BBVA.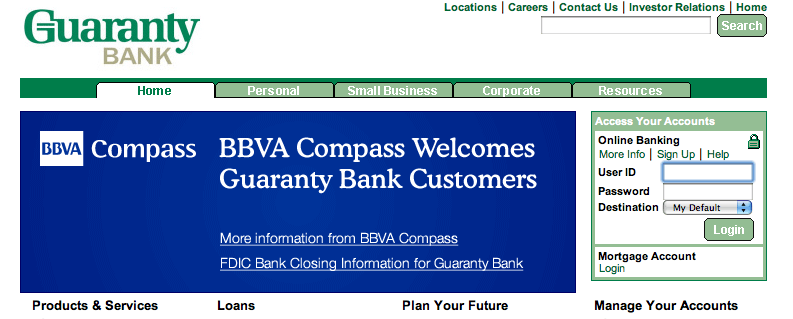 Guaranty Bank had 103 branches in Texas and 59 branches in California. Former branches of Guaranty Bank will reopen during normal banking hours starting tomorrow as branches of BBVA Compass. Depositors of Guaranty Bank will automatically become depositors of BBVA Compass. Depositors will continue to be insured by the FDIC, so there is no need for customers to change their banking relationship to retain their deposit insurance coverage. Customers should continue to use their existing branches until BBVA Compass can fully integrate the deposit records of Guaranty Bank.
For more information please visit bank website.
Ask a Question