This Week's Best CD Rates Rounded Up
It looks like things are looking up a bit for consumers. With the first phase of the Credit Card Accountability, Responsibility, and Disclosure (CARD) Act of 2009 taking effect, credit cardholders may finally be able to have some relief from sudden rate increases without prior information, as well as have more favorable terms in case they want to opt out of the new rates.
But that's not all the good news there is to tell. Many banks upped their CD rates this week, perhaps in anticipation of a recovering economy, which is not only observed in the country, but also in the world market. Could happy days be here again? Putting it that way would be going too far at this point.
Still, if you take a quick look at the top CD rates for this week, you'll see that new banks have entered our list, and with them, higher CD rates.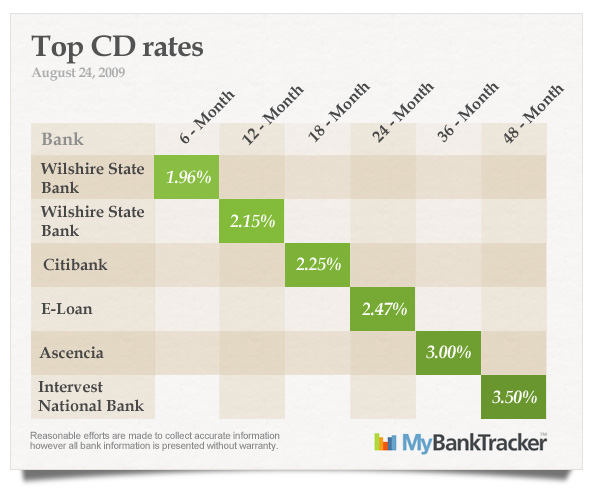 6-month CD Rates
This week, Wilshire State Bank takes the top spot for 6-month CDs, offering an APY of 1.96%. Ascencia, which had the best 6-month CD rates for the past few weeks at 1.76% dropped to third spot, with UFB Direct coming in second with a 1.80% yield.
12-month CD Rates
Wilshire State Bank also offers the highest 12-month CD rates with a rate of 2.15% APY, higher than last week's 2.05% from newdominionDirect, which now comes in third. Umbrella Bank is a close second, giving a yield of 2.10%.
18-month CD Rates
With the billions of taxpayer's money that was pumped into the country's big banks, they don't even try to compete with the higher rates that smaller banks are giving, and hence, rarely come anywhere near our list of banks with the top CD rates.
This week however, Citibank gave quite the surprise by offering the best rate for 18-month CDs at 2.25% APY, with a low minimum deposit of $500.
48-month CDs
Intervest National Bank takes the highest 48-month CD yield this time at 3.20% APY, only a slight decrease from the past two consecutive weeks' 3.25% APY from Discover Bank.
24-month, 36-month, and 60-month CD Rates
For the other longer termed CDs, the same banks have the top rates: E-Loan for 2-year CDs at 2.47%, Ascencia for 3-year CDs at 3.00%, and E-Loan again for 5-year CDs at 3.50% APY.
Online CD Special from OneWest Bank
OneWest Bank (formerly IndyMac Bank) has come out with a high-interest rate CD that's only available for online clients. This special CD has a rate of 2.15% for a 10 to 18 month term. The 2.15% APY offered is already very competitive considering that it equals the current highest 12-month CD yield, and is only slightly lower than the top 18-month CD rate of 2.25% APY.
With this many banks vying to offer the best CD rates, and even the bigger banks joining the fray, we can't wait until all other banks follow suit, giving us better options. Will higher CD rates come up next week? It remains to be seen.
Ask a Question