ING Direct vs Discover Bank: Matching Two Online Banks with the Best Deals
ING Direct and Discover Bank continue to attract more and more Americans with online banking accounts. Online banks have been growing in popularity because of their higher interest rates and banking convenience. Offering services that traditional brick and mortar banks offer, online banks continue to diversify and provide customers with innovative ways of banking.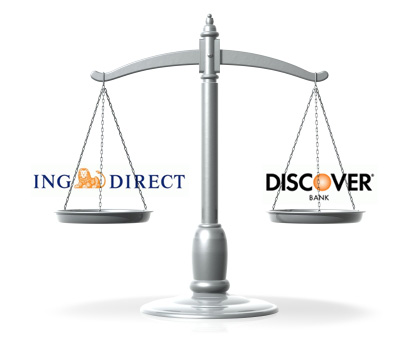 A quick look at ING Direct and Discover Bank
ING Direct backed by ING Bank remains to be one of the premiere banking institutions with business interests in over a dozen countries worldwide. ING Direct continues to be one of the corporate banks who deliver solid performance with business grounded in sound economics.
Discover Bank, on the other hand, is one of the most recognized names in the online banking industry. Discover Bank remains a popular choice for many Americans because of their innovative and customer-targeted products.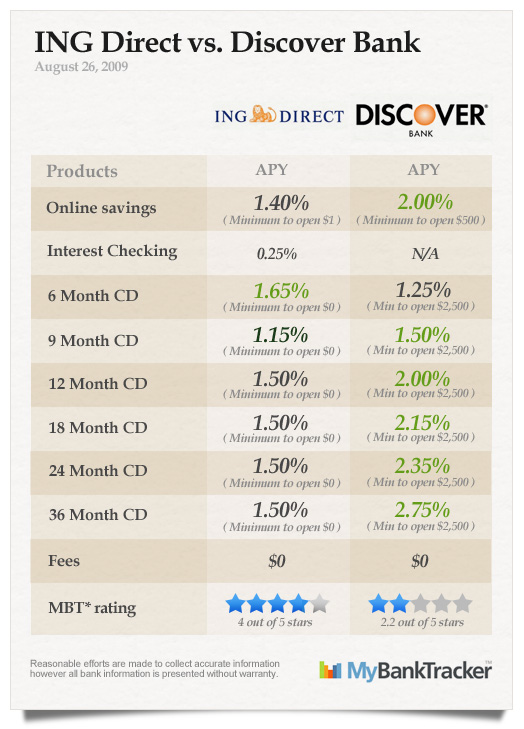 Online Savings
Discover Banks edges ING with higher interest rates for online savings. A minimum deposit of $500 is required to open up an account. ING Direct on the other hand gives their customers the ease of opening an account with a minimum $1 opening deposit. For people who have the extra funds to deposit, opening an account with Discover Bank would present itself as a better deal by locking-up those higher interest rates.
Certificate of Deposits CD's
For short-term 6 month CD's ING Direct tops Discover Bank with its 1.65% APY. This however is eclipsed by Discover Banks interest rates for longer month CD's. Investing on Discover Bank CD's may prove to be tricky as they require a $2,500 deposit. This may be out of the reach for some Americans who are currently feeling economic crunch of the times. ING Direct meanwhile offers their customers greater flexibility with a $0 opening deposit for CD's.
How they Match-up against each other
With greater corporate reach and financial assets ING Direct, a Dutch based financial company, certainly holds some clout with their huge assets. ING Direct is relatively new in the online banking industry. It has established itself in the US banking industry by taking a hold of large chunks in online bank deposits.
Discover Bank on the other hand has been growing in popularity in the online banking niche. It has grown to be one of the leaders in the online banking sector because it has time and time again found a new way of rediscovering itself with its innovative products and features.
A quick glimpse shows both banks offering some great rates on their CD's and saving accounts. Each bank offers their customers features which cater to different types of needs. ING Direct and Discover Bank remain to be the leaders in online banking business. But choosing the best bank that answers your financial needs is still up to you.
Ask a Question