National CD Rate Averages Are on the Rise
With the government set to release the figures for consumer spending and income any time now, hopes are high that the data will further strengthen growing prospects that the longest recession since World War II is finally ending.
The signs of a recovering economy are manifesting themselves more clearly over the past few months in the rise in housing construction, higher exports, and lowered inventories of retail outlets. But with jobs still scarce and the unemployment rate still expected to hit the 10% mark by year end, it is unlikely that the actual effects of an easing recession will be felt soon.
If yields for deposit accounts are any indication of an easier life for many Americans, then things aren't looking up just yet. With August drawing to a close, CD rate averages are much lower than when they were at the start of the month.
On a more positive note, this week's CD rate averages depicted a better picture than those of the previous week: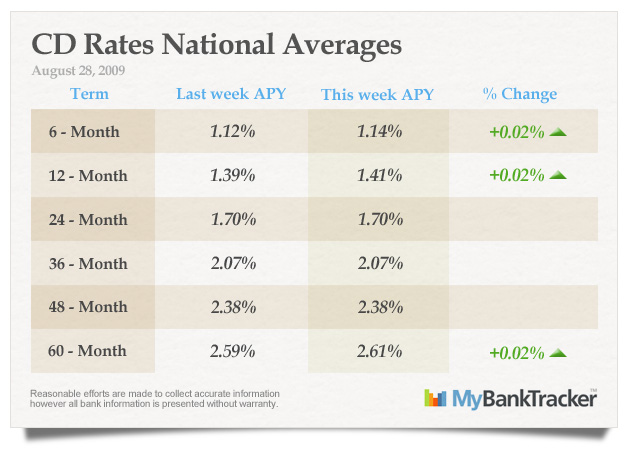 CD Rate Hikes
One of the biggest boosts in CD rates this week is Bank of America®'s 120-month CD yield, increasing by 0.91% from 2.10% APY to 3.01% APY. Other banks that also upped their rates, albeit only slightly, are Ally Bank for its 3-month CD (from 1.20% to 1.25%) and 60-month CD (from 3.20% to 3.25%), and OneWest Bank for its 3-month CD (from 1.10% to 1.30%).
For a complete list of CD rates available and to know the CD yields your bank is currently offering, check out our CD rates page.
Ask a Question