The 2009 Banking Playoffs: Best Sports Stadium Sponsorships
Ok, so you've probably heard of TD Garden and Citi Field, and can assume that TD Bank and Citigroup paid a lot of money to have their names associated with those two stadiums.But did you know that there are over a dozen sports venues in the U.S. that are bank sponsored, with more being bid on every year? How do banks decide which ones to affiliate themselves with?
Considering the big name banks that have purchased stadium naming rights, sports branding appears to be the banking equivalent of a status symbol; instead of buying a Lexus, banks will buy naming rights to demonstrate economic stability, project a more fun image and hopefully gain a client-base amongst sports fans. Or maybe it's just the spirit of competition. Either way, it could prove important that banks back a winning team. Although the loyal fan will see every game no matter what, overall stadium attendance will generally be higher if a team has a winning record. If this is true, it might be in a bank CEO's interest to watch some SportsCenter before deciding which team's stadium they are going to put their name on next.
For this playoff round we've decided to narrow it down to the final four, the biggest bank sponsored stadiums by total bank assets and capacity:
1. Bank of America® Stadium, Carolina Panthers (Capacity: 73,504)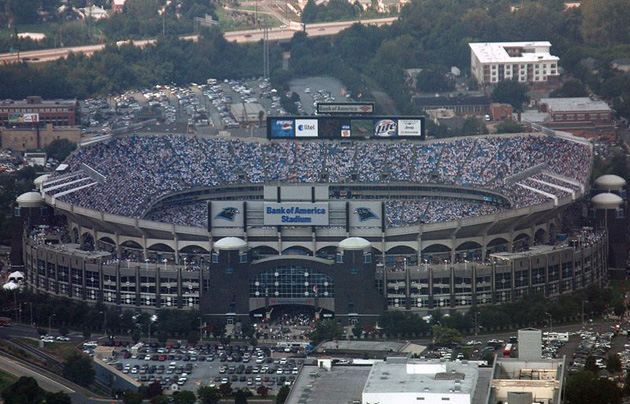 Photo by Capt. Wayne Capps, USAFR
Bank of America® comes in first, with a whopping $1.4 trillion dollars in assets. They also rank 2nd in sponsorship dollars, paying $7 million a year to keep their name on the Panthers home stadium. The team has performed fairly well at Bank of America® Stadium; following the 2003 Super Bowl (which they lost to the Patriots), attendance jumped by over 16,000, an increase which continued for two years as they maintained a winning record, but immediately dropped off after a devastating 7-9 season in 2007. Hopefully for BofA, last year's 12-4 sweep will bring with it a drove of new loyal Panther fans.
2. Citi Field, New York Mets (Capacity: 41,800)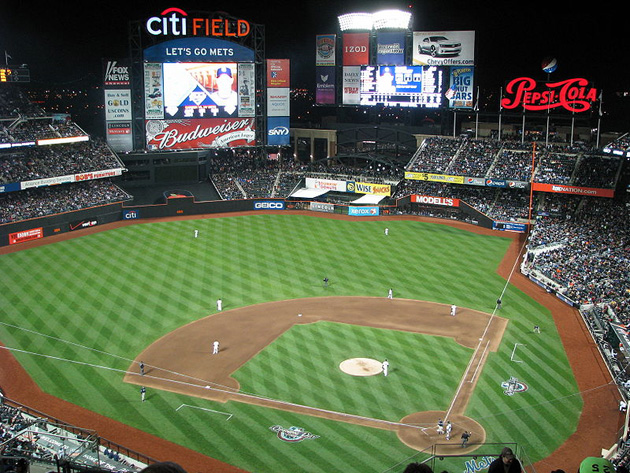 Metsfan84
Citigroup is next, with a respectable $1.1 trillion in assets. However, they are far and above the leader in sponsorship dollars paid; this year Citigroup bid $400 million to keep their name on the field for the next 20 years. The Mets are hoping that leaving their beloved Shea Stadium will help them improve on last year's winning record, but Citigroup will have to wait and see what sort of attendance this brand new facility will bring.
3. Wachovia Center, Philadelphia 76ers (Capacity: 21,600)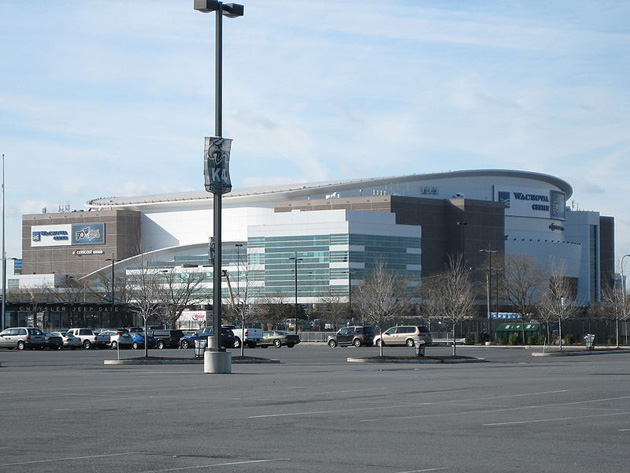 Wlaw422
Sliding in at third is Wachovia, with $579 billion total assets, and winning the rights to put their name on the 76ers home court at the decent price of $1.4 million a year. Attendance at the center has stayed steady at around 800,000 per year, only dropping a little after they were not able to keep their 2005-2006 winning record the following season. However, after ending the season with an even record last year, the 2009-2010 season could go either way for the Sixers.
4. Wells Fargo Center, Iowa Energy (Capacity: 16, 980)
While not having all the bells and whistles of the NBA, Wells Fargo makes it into our final four with total assets of $552 billion. In sponsorship dollars, it is in the lower end, only spending $575,000 a year to be the name on the center that is home to the Iowa Energy, a NBA Development League team affiliated with the Phoenix Suns. While it may not pull the kind of crowds that the big league stadiums do, the Wells Fargo Center website claims that it has put Des Moines, IA back on the map.
So there's our 2009 Banking Playoff wrap up. Of course, while a bank's success does not rely solely on the fate of its stadium's home team, it could rely on the millions of people each year who attend bank sponsored ballparks to follow those teams. This is where the real payoff could come in. Especially with the recent financial crisis, and with ticket prices steadily rising, sports events have become the national pastime of a wealthier section of the population. This trend has piqued the interest of banks who are hoping to catch their attention. With access to a captivated audience of thousands of well-heeled clients on the line, it wouldn't be surprising if the next hotdog you pick up at the ballgame isn't Oscar Meyers, but Goldman-Sachs.
| Stadium | Bank Assets | Sponsorship per year | Team (League) | Record(2008) |
| --- | --- | --- | --- | --- |
| Bank of America Stadium | $1.4 trillion | $7 million | Carolina Panthers (NFL) | 12/4(W) |
| Citi Field | $1.1 trillion | $20 million | NY Mets (MLB) | 89/73(W) |
| Wachovia Center | $579 billion | $1.4 million | 76ers(NBA) | 41/41(T) |
| Wells Fargo Arena | $552 billion | $575 thousand | Iowa Energy(NBA-D) | 28/22(W) |
| HSBC Arena | $177 billion | $800 thousand | Sabres (NHL) | 41/32(W) |
| PNC Park | $140 billion | $3 million | Pirates (MLB) | 67/95(L) |
| BB&T Field | $139 billion | unknown | Demon Deacons (NCAA) | 8/5(W) |
| Citizens Bank Park | $134 billion | $2.3 million | Phillies (MLB) | 92/70(W) |
| TD Garden | $106 billion | $6 million | Celtics (NBA) | 62/20(W) |
| Chase Field | $88 billion | $2.2 million | Diamondbacks (MLB) | 82/80(W) |
| Sovereign Bank Arena | $78 billion | $267.5 thousand | Trenton Devils (ECHL) | 29/36(L) |
| Comerica Park | $67 billion | $2.2 million | Tigers (MLB) | 74/88(L) |
| M&T Bank | $63 billion | $5 million | Ravens (NFL) | 11/5(W) |
| RBC Center | $29 billion | $4 million | Hurricanes (NHL) | 43/33(W) |
| TCF Stadium | $17 billion | $1.7 million | Golden Gophers (NCAA) | 7/6(W) |
| BancorpSouth Arena | $13 billion | $208 thousand | Miss. Mudcats (AIFL) | 13/1(W) |
| BankAtlantic Center | $5 billion | $2.7 million | Florida Panthers (NHL) | 41/30(W) |
Ask a Question