Runners Gear Up For the Bank of America Chicago Marathon 2009
In a little over a month or October 11, 2009 to be exact, about 45,000 runners will once again line the streets of the Windy City, all eager to participate in what has become one of the world's best known road races — the Bank of America® Chicago Marathon.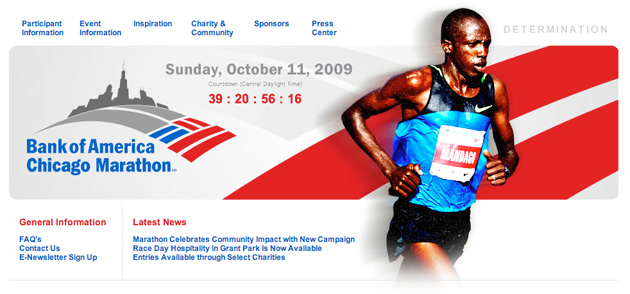 The beginnings of this now-famous marathon were humble enough, with the first Chicago Marathon held in 1977 with 4,200 runners. Now 32 years later, that number has grown to more than ten times the original figure, even more if not for the 45,000 registration cap, and the race itself backed by no less than one of the country's biggest banks. And make no mistake about it; the marathon is not only a big deal to the participants, among them professional and elite runners, but also for the more than 1 million spectators who will witness the event, the charities involved, and the city as well.
Using the event's tagline "Leave Your Mark," a massive ad campaign for the Bank of America® Chicago Marathon 2009 is set to air anytime now. Comprising of radio, print and digital commercials, the ads are expected to play up the huge impact the marathon is going to have, primarily raising funds for selected local and national charitable organizations.
At the marathon website, both registered runners and fans alike get the chance to design their own custom running shoe tread on which they can include their personal messages. For every shoe design received, Bank of America® will give away $1 dollar to the designer's chosen charity from among 25 listed on the site. The charity that gets the most number of shoe design submissions will get an additional $10,000 from the bank.
Further, it's worthwhile to note that included in the thousands of participants who have committed to the marathon are those who are running on behalf of a charity, breaking their personal as well as marathon records, and in the process effectively raising funds for their chosen organization. Data from the Bank of America® Chicago Marathon 2008 shows that the 7,300 runners who were registered with specific charities collectively generated more than $10 million.
For the sake of the millions of people being helped by these organizations, let's hope this year's takings will be even better.
Ask a Question