Dollars Aren't the Only Green in Banking
Concern for preserving and enhancing environmental quality has become a key issue for consumer groups, businesses and political figures. Major enterprises now want to prove their level of environmental consciousness by investing in recycling, using alternative energy resources, and adopting other methods of cutting down on the use of precious natural resources. Business documents and emails frequently carry notices advising readers to avoid printing them unnecessarily, and reminder notices to turn off lights when leaving the office have also become regular sights in company premises.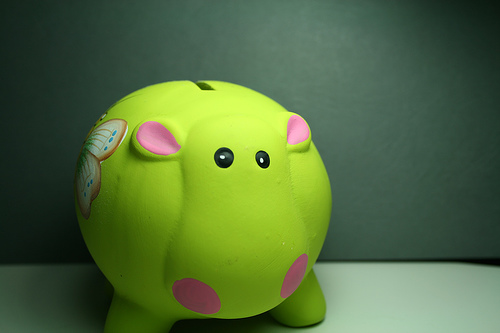 Exar_Kun72
Whether for reasons of genuine conviction or an acute recognition of the advantages to their public image, US banks have not been slow jumping onto this environmental bandwagon. In some cases, the banks' activities can be seen as directly orientated towards advancing the agenda of the "green lobby", while in other cases environmental benefits have emerged from trends in the banking world originally triggered by commercial interests and technological developments.
Online banking is green banking
It is estimated that today about 70 million Americans use online banking services; according to a Fiserv Survey, two million Americans joined the ranks of online bank customers over the last two years. While the development of Internet banking has clearly been contingent on the creation of the required software technology, the provision of accepted security levels and the public recognition of how much time and energy you can save by doing your banking over the Internet, the environmental side benefits have also become significant.
The fact that tens of millions of people do not have to get into their cars and drive to their banks to make their deposits, withdrawals and other transactions represents significant national energy savings. Another side-benefit is the reduction in all the receipts and statements the bank tellers need to print out in traditional banking. The growing use of paperless electronic billing and payments systems is an additional aspect of Internet banking that both adds to customer satisfaction and helps save our natural resources.
Bank sponsored green initiatives
While technological developments have naturally helped move the banking world in a green direction, a good number of leading American banks have also decided to take specific steps to proclaim their green credentials. Popular strategies include encouraging customers to opt for getting their account statements and notifications from the bank via emails, and specific campaigns, volunteer programs and publicity drives in support of green causes.
Examples of green banking initiatives
A few examples of green banking initiatives illustrate how banks are now increasingly pushing green agendas.
Alpine Bank of Colorado
The predominant green color scheme of the Alpine Bank's Website perhaps can be seen as hinting at their commitment to the environment. Alpine Bank offers its customers eStatements that are both "environmentally friendly, secure, and FREE". If this is not sufficient incentive to persuade you to take up this offer, the bank is also now offering a $5.00 bonus for signing up for eStatements before September 11. If Alpine Bank achieves its target of 1,500 new eStatement enrollments by this date, they will donate $5,000 to the Colorado Carbon Fund to help "offset 250 tons of greenhouse gasses (CO2) on your behalf."
Four years ago Alpine Bank began their "Green Team" initiative and they later developed this into an "Environmental Management System (EMS). The EMS provides a structure against which the bank can measure an effective environmental policy. The bank's daily e-newsletter contains green tips and information about what is being done to improve the local environment. Working in close cooperation with the State of Colorado, they aim to achieve 20% reductions in energy and paper use, a 10% reduction in water consumption and a 25% cut in the amount of fuel used by their couriers' fleet.
Charter One Bank
Charter One Bank has launched a "Green$ense" debit card and is encouraging customers to use it in place of cash and checks for their transactions. They are also trying to persuade customers to pay their bills online through e-bills. Their online site includes an interesting interactive chart that illustrates how switching to electronic payments can have a positive impact on the environment.
Charter One's latest campaign seeks to tempt customers to enroll their personal checking account in the Green$ense program. Customers are offered 10 cents for each debit card, online bill, or automatic payment charged to the checking account or debit card rather than paying using paper. It is possible to earn up to $120 a year by participating in this program, with each dollar earned representing a saving equal to the emissions of 87 miles of driving and more than seven square feet of forest.
Harleysville National Bank
In commemoration of its hundredth anniversary Harleysville National Bank of Pennsylvania announced in June the launching of its GenGreensm suite of banking products to improve customer service and do their part to improve the environment. GenGreensm includes the offering of cash bonuses to customers who contribute to resource conservation and cost savings by using paperless banking. Beginning in June 2009 and continuing to Earth Day 2010 (April 22) the bank offers their customers to return ten cents for each $50 spent with their GenGreensm Checking account. The bank is also prepared to make a matching donation of up to $25,000 for environmental causes in their locality.
In addition to this program for its customers, the bank is also committed to saving on resource usage in their offices by recycling papers, using motion sensors to switch off lights when no activity is detected, and making sure that all their printers print double-sided and use natural inks.
Ask a Question