CD Rates Drop an All-Time Low
CD rates took quite a beating this week as averages for 6-month and 12-month CDs plunged to lower depths, from 1.14% to 1.10% APY and 1.41% to 1.38% APY respectively. Rate averages for long term CDs also fell, albeit only by a modest 0.01%. At the close of September's first week, this is where CD rates ended up after getting their averages: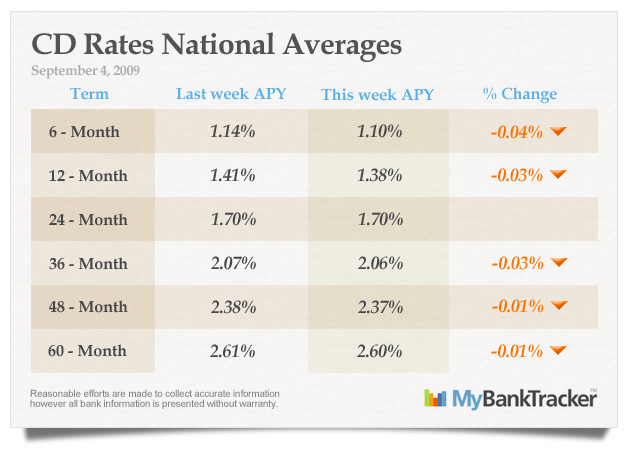 Many banks did adjust their CD rates for this week. Some of them upped their rates, but most shaved off a few basis points off their CD interest rates, immediately giving savers less choices for better yields. Among those which have contributed to this week's lower CD rate averages are the banks which have previously held the top CD rates for some of their CD products; such as Wilshire State Bank which cut its rate on the 3-month, 6-month and 12-month, Citibank, which cut on its 18-month and TD Bank on their 6-month, 36-month and 60-month.
Most notable rate cuts:
Bank of America® cuts 6 & 9 Month CD's by

-0.20%

from 0.95% to 0.75%
AllState bank cuts 60 Month CD by

-0.25%

from 3.00% to 2.75%
Wilshire State Bank cuts 12 Month CD by

-0.40%

from 2.15% to 1.75%
TD Bank cuts 36 Months CD by

-0.25%

from 2.25% to 2.00%
A Few notable gains:
Ally Bank raise 24 Month CD by

+0.05%

from 2.30% to 2.35%
AIG Bank raise 60 Month CD by

+0.06%

from 3.15% to 3.21%
Umbrellabank.com raise 12 Month Cd by

+0.05%

from 1.95% to 2.00%
But while the cuts in CD rate averages may be minimal, the implications for the continued downward trend of interest rates on deposits are a more significant cause of concern. Financial experts have never failed to send out the message at every opportunity that the US economy is only steps away from recovery. It may still take a lot of steps but at least, it's going in the right direction.
And what of America's savers who are only getting so little back from their bank deposits? There are two other completely different alternatives you may have forgotten to consider at this point. First, you could spend part of that savings and help stimulate economic growth even more. Alternatively, if you are in need of some cash and don't want to use your savings, take out a home equity loan instead. If you can't get high CD rates at this point, you can at least take advantage of the low interest rates on the credit side.
However, it appears that right now the best course of action you can take is to sit tight and wait for better days to come. And while you're at it, try to shop for the best CD rates around so that you can still make the most out of your hard-earned money.
Ask a Question