Five More Bank Closures – the FDIC's Bleak Present and Future
While hopes for a rise in the economy are mostly talked of nowadays, banks and financial institutions closure continues as usual. The end of last week marked closure of five more banks bringing the number of financial institutions closed by the regulators to 89 in 2009 alone. The banks closed last week are Vantus Bank of Sioux in Iowa, First State Bank of Flagstaff in Arizona, InBank of Oak Forest in Illinois, Platinum Community Bank in Rolling Meadows, Illinois, and First Bank of Kansas City in Missouri.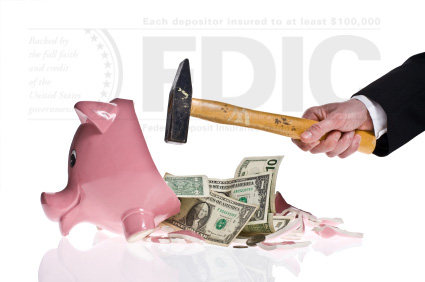 The comparison of assets, deposits and losses estimated by Federal Deposit Insurance Company (FDIC) in closure of three of the above banks is shown in table below:
| | | | | |
| --- | --- | --- | --- | --- |
| Sr# | Bank's Name, State | Assets (million $) | Deposits (million $) | Losses (million $) |
| 1 | Vantus Bank of Sioux, IA | 458 | 368 | 168 |
| 2 | InBank of Oak Forest, IL | 212 | 199 | 66 |
| 3 | First State Bank of Flagstaff, AZ | 105 | 95 | 47 |
Since the FDIC has insured the deposits in banks since Great Depression, the customers of these banks are secure to get back their deposits up to $250,000 each. The details of closure of these three banks and their effect on depositors and borrowers are detailed below:
Vantus Bank of Sioux City, IA
The bank was closed by Office of Thrift Supervision, which appointed the FDIC as receive. The FDIC managed to make agreement of purchase and assumption with Great Southern Bank, Springfield, Missouri to assume all deposits of Vantus Bank of Sioux City. Thus, Great Southern Bank's branches soared with an additional 15 branches of Vantus Bank when they reopened on following Saturday. This move has protected the depositors and they are able continue normal banking relationship as customers of Great Southern Bank.
InBank of Oak Forest, IL
This bank was closed by the Illinois Department of Financial and Professional Regulation-Division of Banking, and FDIC was appointed as the receiver without any advance notice to the public. The FDIC made agreement of assumption with MB Financial Bank, N.A, Chicago, IL and transferred all deposits to assuming institution except some brokered deposits. The deposits are readily available to the customers as the former InBank branches opened as MB Financial Bank branches on following Saturday, September 5, 2009.
First State Bank of Flagstaff, AZ
First State Bank of Flagstaff, AZ was closed by the Arizona Department of Financial Institutions and the FDIC was also appointed as the receiver. As usual, FDIC, as its duty to protect depositors' interest, managed to enter into a purchase and assumption agreement with Sunwest Bank, Tustin, California, and made it to assume all the deposits of First State Bank. Thus, the six more branches will add to existing network of Sunwest Bank's branches. The depositors continued to avail of their deposits with the assuming bank. They are now customers of Sunwest Bank but use the existing branches until Sunwest Bank can fully integrate deposit record of First State Bank. However, they can use existing checkbooks and ATMs as usual.
Although the FDIC instantly manages to protect depositors by making arrangements of purchase and assumption of closed banks deposits, assets and liabilities with stable financial institution, the question is : as the toll rises and trends of bank closures continue will this lead the FDIC to dwindle?
Ask a Question