A Better Kind of Bank Run
Get out your sneakers and pain relievers, it's marathon season again, and corporate sponsors are already lining up to get their names affiliated with these huge annual events that can host up to 35,000 participants and millions of spectators. Whether you are planning to run, volunteer, watch, or just be anywhere in the vicinity of the 26 mile, 385 yard courses that will spring up in multiple cities this fall, you are bound to see a lot of top banks named among the sponsors.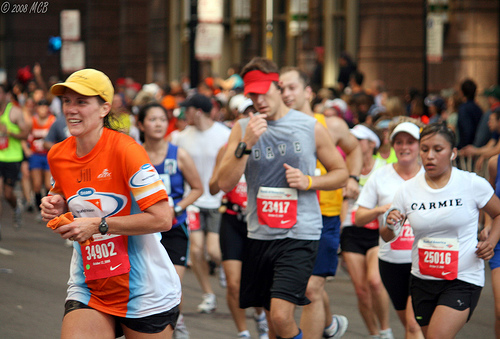 Mickey B. Photography
With the countdown ticking off the days until the Bank of America® Marathon in Chicago, we decided to see what other races were on the horizon, just in case you felt so good at the finish line that you wanted to keep running straight to the next one.
One of the great marathoning traditions are the runners and teams who participate on behalf of charities, which are able to raise millions of dollars at these events every year. Last year the ING New York City Marathon Charity Program alone raised $18.4 million dollars for the 41 charities that participated, and charity runners at the Bank of America® Chicago Marathon raised $10 million in 2008, a number they are hoping to surpass this year.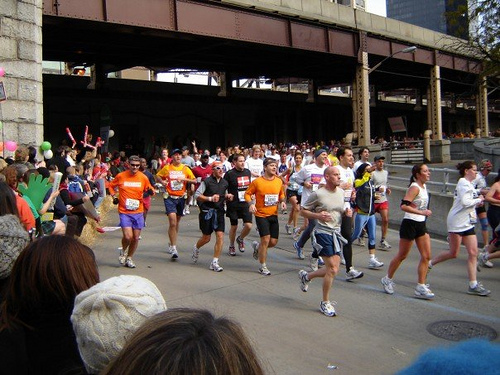 mainswiggans
Charities represented range from large organizations like UNICEF to smaller local groups, and are given a portion of the registration fee of individuals and teams who run for them. So even if you don't think you'll break runner Khalid Khannouchi's 1999 Chicago Marathon record of 2 hours, 5 minutes and 42, join a team affiliated with the charity of your choice and get in shape while promoting a good cause.
Total distance you could be traveling over the next year? Around 288 miles, 740 yards. That doesn't include the distance to each event, but we thought that even if you are marathoners, after all those races you would probably want to fly.
Here is a list of some major marathons upcoming this year:
| Date | Marathon Name | State | Sponsor | Highlights |
| --- | --- | --- | --- | --- |
| 9/13/09 | Two Bear Marathon | MT | Glacier Bank | Fall foliage race through Stillwater State Park |
| 10/10/09 | Baltimore Running Festival | MD | M&T Bank | Special charity for businesses |
| 10/10/09 | ING Hartford Marathon | CT | ING Direct | Dedicated to being a sustainable, green event |
| 10/11/09 | Bank of America Chicago Marathon | IL | Bank of America | Fast, record setting course along the shore of Lake Michigan |
| 10/18/09 | Detroit Free Press/Flagstar Bank Marathon | MI | Flagstar Bank | "Conquered" after party and live music along the course |
| 10/18/09 | Denver Marathon | CO | ING Direct | Flat course, but a mile high: not for the weak of heart |
| 11/01/09 | ING New York City Marathon | NY | ING Direct | One of the worlds largest marathons, with almost 38,000 participants last year |
| 11/14/09 | SunTrust Richmond Marathon | VA | SunTrust | "America's friendliest marathon," with junk food pit stops along the course |
| 3/20/10 | SunTrust National Marathon | Washington, DC | SunTrust | The 5th annual run along the National Mall |
| 3/21/10 | ING Georgia Marathon | GA | ING Direct | A beautiful course through Atlanta starting and finishing at Centennial Olympic Park |
| 4/25/10 | Oklahoma City Memorial Marathon | OK | Merrill Lynch / Morgan Stanley | 10th annual memorial run for the Oklahoma City Bombing |
| 4/30/10 | Eugene Marathon | OR | Wells Fargo | Full weekend of running events in Oregon |
| 5/02/10 | Cincinnati Flying Pig Marathon | OH | PNC Bank | One of the largest 1st time runner marathons, great for beginners |
| 5/02/10 | Pittsburgh Marathon | PA | PNC Bank | Fitness challenge for teams with members competing in all three events |
| 5/30/10 | KeyBank Vermont City Marathon | VT | Key Bank | Free runner dinner with speaker, female leg amputee and Ironman Competitor Sarah Reinersten |
| 6/19/10 | Grandma's Marathon | MI | Wells Fargo | Live music and guest speakers |
Ask a Question