Planet Orange from ING Direct: An Out-of-this-World Way of Learning About Money
ING Direct has come up with a fun and exciting way of teaching kids about money: Planet Orange. Aptly taken from ING Direct's signature brand name Orange, Planet Orange is an interactive kids' website packed with learning activities, games, and adventures in an outer space planet setting, all designed to give kids from grades 1 to 6 an early start to managing finances – wisely saving, spending smart, doing "jobs" and earning, and even investing.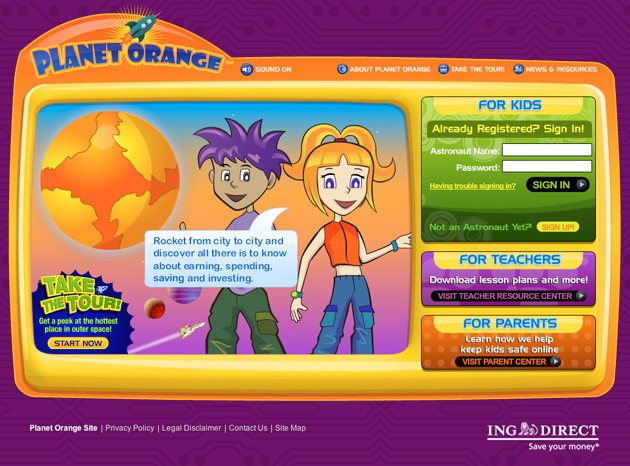 In our present economic crisis and debt-ridden society, nothing could prepare kids better for a sound financial future than a hands-on experience on handling money, albeit in a virtual world. The site not only teaches the basic saving and spending skills, it also orients the younger generation on what impact money has on their lives and how greater that effect will be as they grow older and have more responsibilities.
While knowing how to handle finances is perhaps a topic that many younger kids won't find all that interesting, this site has made all the money stuff more understandable and more importantly, fun!
If you haven't started educating your kids on money matters, you would find Planet Orange a most useful tool to help you do this. The site also has both a Parent Center and a Teacher Resource Center which can help a child maximize his learning experience with your assistance, whether you're a parent teaching your own kids or an educator by profession introducing the program to schoolchildren.
ING Direct's commitment to promoting early financial education and responsibility to kids through Planet Orange has been recognized by several organizations and educators with awards for web excellence and creativity in the categories of Family/Parenting and Education.
Ask a Question