Chase Introduces "Blueprint", Giving Cardholders More Control
On September 15, Chase introduced "Blueprint" a new credit card program that allows customers to manage their spending and borrowing. Chase Blueprint offers free tools to better control your finances by paying down balances, managing everyday spending and paying off major purchases.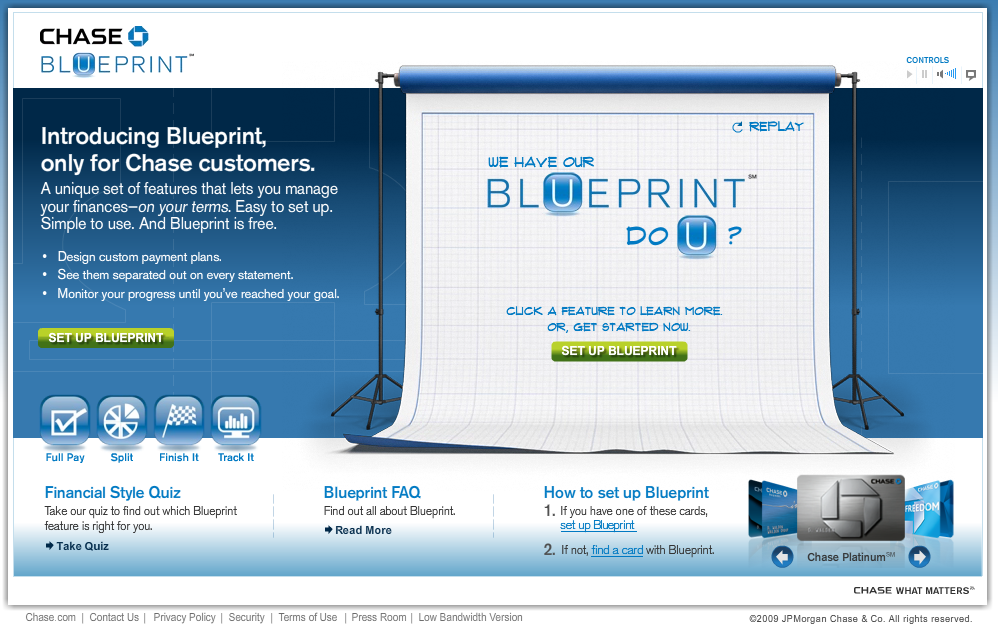 Blueprint should be viewed as an online billing platform for the 20 million Chase cardholders to finance certain purchases while paying others in full each month interest-free. Customers then choose the number of monthly installments, and Blueprint calculates the interest they can save by paying more than the monthly minimum.
"Consumers want more control, simplicity and predictability when it comes to their finances," said Gordon Smith, CEO of Chase Card Services. "With Blueprint, customers can design their own plan and pay off balances sooner, save money by avoiding interest chargers, and then easily track progress toward achieving their financial goals."
Chase, the second largest card issuer of purchases in the U.S., behind American Express, sees this new direction as a way to capture market share from cardholders by assisting them in lowering their interest rates. Chase is taking the credit card vertical very seriously with recent launches of Sapphire, a credit card program designed for affluent consumers and the partnership with United Airlines.
This new strategy is an interesting one that Chase believes is the right direction in the long term. They expect the increase in market share to counter the lost in interest rate fees Blueprint is designed to help decrease. We can expect to see more banks introducing similar features very soon, especially if Chase announces the slightest of positive results.
Ask a Question