Cash in on the $8,000 Tax Credit for New Home Purchases
Recent government programs introduced to stop foreclosures and stimulate interest in the Housing Sector have brought about positive results. The real estate sector has certainly benefited from these measures. Programs such as the $8,000 tax credit for new homeowners have not only spurred a spate of new home sales but have also translated into new economic activities.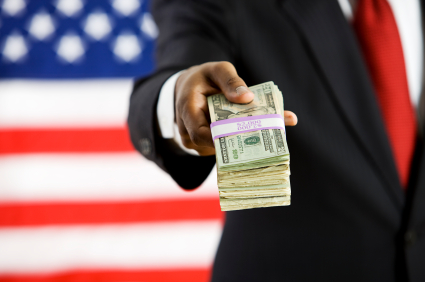 Making Homes Affordable
One of the highlights of the President's Making Homes Affordable program is the introduction of an $8,000 tax credit to new homeowners. This would not only affect other problems plaguing the home market such as increasing numbers of foreclosures but also helps in other areas such as increasing new home sales. It has also increased consumer spending and confidence by providing new funds to homeowners.
Qualifying for the $8,000 Tax Credit
The $8,000 tax credit is the maximum amount a homeowner can get for home purchases. Tax credits are computed by multiplying the home's value by ten percent. To avail of the maximum $8,000 tax credit, total home value must be $80,000 and above.
For married couples, only those whose modified adjustments gross income (MAGI) are under $150,000 qualify for the tax benefit. Single filers however must register a MAGI of not more than $75,000 to be eligible.
For married couples planning to file separately, tax credits are divided (as much as $4,000 dollar each) on their tax returns.
Partial tax credits are also available for couples who do not meet the $150,000 ceiling. This partial tax credit may be availed by couples who report MAGI incomes which are above $150,000 but under $170,000. This is also available for single filers whose MAGI incomes are above $75,000 but below $95,000.
Tax credits don't have to be paid back unless homeowners fail to maintain the property for 36 months. Homeowners must also reside in their new homes for at least 36 months from purchase.
In order to be considered as a new homeowner, buyer must not have owned a home previously within 3 years prior to the program. Ownership of a vacation home or rental home, however, does not make the individual ineligible for the tax credits.
The $8,000 is a tax credit and not a deduction. This would mean that the cash incentive is not subject to further computations such as tax deductions for mortgage interests. Qualifying for the $8,000 credit means the homeowners gets full compensation and benefits.
The Tax Credit offer only covers home purchases made from January 1, 2009 to November 30, 2009.
If a new homeowner qualifies for the program, tax credits could be claimed on their 2008 income tax forms.
The Time is Right
The $8,000 tax credit has made the prospect of owning a new home more attractive. Mortgage rates have been hovering on the 5% APR's this few months but are still lower compared to figures posted from the previous years. With the program slated to end November of this year, prospective homeowners are encourage to take full advantage of the different government programs now in place.
Making Careful Moves
Before considering this program, however, new homeowners must first ask if they are financially capable of taking the huge step of purchasing a new home. It is always important to plan ahead and make the right decisions at the right time with big financial transactions. The $8,000 tax credit is certainly attractive but it is also important that homeowners think how mortgage payments can affect the health of their finances in the future.
To find a bank offering the best home financing program that best suits you and the latest mortgage rates please follow this link at MyBankTrackerTM
Ask a Question