Best CD Rates Maintained for This Week – But Are Changes Coming?
This week is crucial for banks, business groups, investors, and depositors alike as the Fed holds a two-day meeting to decide on whether it is still feasible to keep interest rates at the historically low levels they are in now – close to zero. We'll know soon enough whether an increase in rates is imminent or still out of immediate reach.
In the meantime, most of the best CD rates from last week held steady this week even as many banks made significant rate cuts the past week. The only top rate that wasn't maintained until this week is Asencia's 3-year CD, which saw a 0.73% rate cut.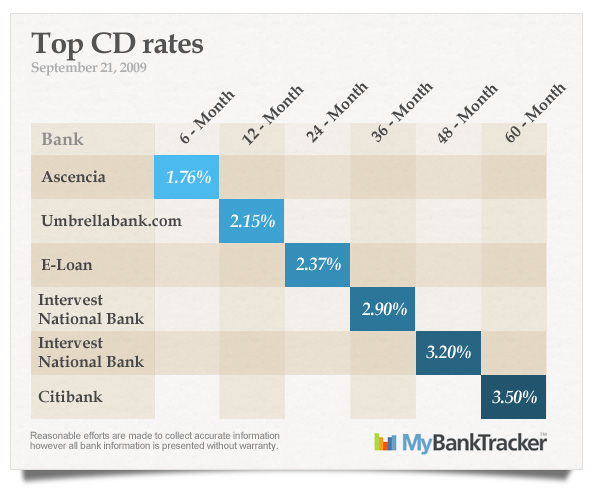 6-month CDs
While Asencia slashed its 36-month CD, the bank decided to keep its 6-month CD at 1.76%, maintaining the best CD rate for this particular term. Keep in mind though, that H&R Block Bank's 36-monh CD at 2.00% for $10,000 minimum is still available until Sept. 30, and you can apply online.
12-month CDs
Umbrella Bank continues to give one of the top rates for 12-month CDs at 2.15% APY for a minimum deposit of $1,000.
If you have, however, at least $25,000 stashed away somewhere which you can spare for the next 12 months, MetLife Bank is giving a higher rate alternative at 2.25% APY. According to the bank's site, the rate is available only for a "limited time" and the funds have to be deposited in a single transaction.
24-month CDs
The best rate that you can currently find for 24-month CDs is still E-Loan's 2.37% APY which you can avail of for a $10,000 minimum deposit. This top rate though, only leads by a very minimal 0.02% over other CDs worth investing in from Discover Bank, Ally, and newdominionDIRECT, which are all offering 2-year CDs at 2.35% APY. These banks also require lower minimums of $2,500, $0, and $3,000 respectively.
36-month CDs
When Asencia's 36-month CD, previously at 3.00% APY, plunged to a low of 2.27% last week, bank depositors lost the only nationally-available 3-year CD rate that still hit the 3.00% mark. The highest 3-year CD is now offered by Intervest National Bank at 2.90% APY — 0.10% lower than the past top rate.
48-month and 60-month CDs
Both Intervest National Bank and Citibank maintained the highest CD rates for the 4-year and 5-year CDs respectively. Intervest National Bank is giving 3.20% yield for 48-month CDs while Citibank 60-month CDs get a 3.50% APY.
Even as certain economic indicators clearly show that the economy is firmly on the long road to recovery, savers are still not feeling it. To say that consumers who are bent on saving their money instead of spending it deserve better CD yields is an understatement. Still, the best thing that consumers can do right now is to look around for the highest CD rates available to maximize their income potential while waiting for things to look up.
Ask a Question