Survey Says? Recession Changing the Lives of Americans
A little over a year after Lehman Brothers closed its doors and fueled an economic downturn surpassed only by The Great Depression, financial experts say the worst is over. But Americans are feeling the pinch more than ever. They are putting off weddings, participating in car pools, holding off vacation plans, and staying put in their hometowns and cities. Having to cope with an economic downturn of this magnitude had Americans finding new ways of doing things, spending less, and saving more.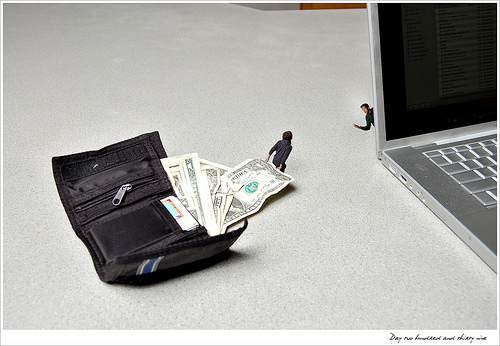 Kolby Schnelli
Hello, Frugal America!
Prior to this slump, many Americans went on spending binges, backed by credit cards and home equities on properties that were overvalued. This time, however, frugality is the new byword. That means saying goodbye to "shop 'til you drop" and hello to coupon-cutting and bargain-hunting, putting more money to pay off debt or build up deposit accounts.
And that's not going to change any time soon, even after recession officially ends. A study by the research firm AlixPartners show that consumer spending will not go back up to pre-crisis levels. It could reach as high as 86% of the previous spending levels but most likely no more than that. Families have been steadily scaling down their household expenses, giving up the occasional restaurant dinners, doing housework for themselves instead of hiring handymen, and even trading down luxury brands for discount stores.
Staying Single Is In
Studies also show that this recession may have shied people off from taking on more responsibility – particularly, the responsibility that comes with marriage and starting a family. About 31.2% or one in three Americans aged 15 and above say that they have never been married. This figure used to linger in the levels of 26 to 27 percent before the housing slump in 2006, then slowly climbed up to this point, the highest it has reached in a decade.
The figure for the never-married individuals includes about three-fourths of men and two-thirds of women in their 20's. Even as more young people are determined to establish stability and economic independence by finding jobs or pursuing higher education, the thought of marriage has taken a backseat.
Rise in Carpooling, Use of Public Transport
Paying $4/gallon for gasoline isn't helping any with most consumers' goal of keeping daily expenses at a minimum. The solution they found? Joining carpools or using public transportation. The number of solo drivers decreased in twenty-two states, and the change is quite apparent in states with higher traffic congestion. At the same time, the number of people who carpooled increased to 10.7% from last year's 10.4%, while those who took to commuting grew by 5%. Because employees had to leave early for work to catch the bus or train, or to pick up co-workers, travel time went up for most individuals, averaging about 25.5 minutes, the same average commute time way back in 2000.
Decline in Home Ownership
Loan interest rates have never been lower and that should bode well for those looking to own a home, right? Not necessarily. Yes, mortgage is attractive these days, but ironically, it's also harder to obtain. Banks are looking for solid credit histories and higher down payments, which potential borrowers are finding harder to come up with. As a result, the country's homeownership rate slid down to 66.6% last year from a high of 67.3% in 2006.
Fortunately, the federal government is supporting the credit market, particularly the housing industry, by making trillions of dollars available to banks in hopes that part of these funds will be passed on to consumers and mortgage borrowers.
Passing Up on Sunny Climates
Another manifestation of the social impact that this recession has had on people is the fact that less individuals and families are moving to the Sun Belt, as has been the steady trend in recent decades. With credit harder to obtain, many of them have instead chosen to stay where they are. Mobility has not been this low for the last 60 years, and this development may change population trends that are often used as basis for allocating House seats.
No doubt about it; the economic crisis has affected people's lives in one way or another. Things may be taking a turn for the better, but the aftershocks will still be felt for the next few months, years even. The silver lining to this story however, is that this crisis has also taught important lessons of resiliency, determination, and the value preparing for the worst – recession or no recession.
Ask a Question