TD Bank and TD Banknorth Now Under One Roof
TD Banknorth customers will finally be able to enjoy all of the privileges of "America's Most Convenient Bank." In a much anticipated name change, TD Banknorth, the Portland, Maine-based subsidiary of TD Bank Financial Group, will join operations with TD Bank to create a complete network of over 1000 banks stretching from Maine to Florida.
More Locations, Greater Convenience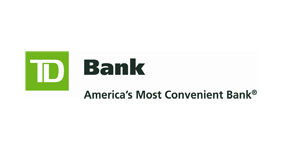 While TD Banknorth customers have been able to bank at TD Bank locations in the Mid-Atlantic and Southern states for a while now, those who opened accounts at the northern locations under the TD Banknorth name would have encountered some difficulties while attempting to access some services at TD Bank locations. With the name change, the 436 TD Banknorth locations in the Northeast will begin operating on the same system as TD Bank locations, allowing customers of both branches the same access and service at over 1000 locations in the US.
Not Just A Name
In celebration of the combination of the two banks, TD Bank will also begin offering its new services at all locations, including the infamous Penny Arcades that provide free coin-counting with prizes for those who guess the amount of change correctly. In addition, the new TD Bank locations will:
offer longer banking hours
be open on Sunday and federal holidays (select locations only)
Customer service 24 hour a day, 7 days a week, 365 day a year
a new, standardized look at all branches
So don't be worried if you go to the bank in Maine or Vermont next week and the 'north' seems to have fallen off the sign; your bank will offer all of the same services, just now with the convenience of TD Bank's extended network along the east coast.
Ask a Question