Credit Cards: As Dangerous as Alcohol? Federal Reserve Proposes New Rules
We have minimum legal ages for all kinds of activities we think are too dangerous for younger people; driving a car, smoking cigarettes, gambling, drinking alcohol…the list goes on and on. So why don't we also try and protect young people when it comes to their financial decisions?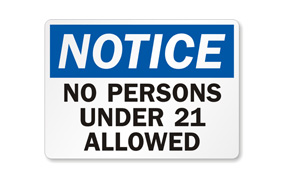 This is what the Federal Reserve has proposed in its amendments to Regulation Z, a regulation associated with the Truth in Lending Act, which were approved today by the Federal Reserve Board. These amendments include, among other things, a prohibition on issuing credit cards to people under the age of 21, unless they have signed consent from a parent.
Mom, Can I Be Pre-Approved?
The Regulation Z amendments come almost a year after the Federal Reserve first adopted rules that prohibited a number of what they deemed to be unfair credit card practices. These new provisions incorporate aspects of the Credit Card Act that was passed in May of this year. In addition to the minimum age, the new amendments include:
Prohibiting rate changes during the first year of an account, and rate changes that are linked to another account balance
Require the issuer of the credit card to obtain the customers consent before charging fees for transactions that exceed the credit limit
Limit the high fees associated with subprime credit cards
Ban the use of "two-cycle" billing methods that impose additional interest charges
Prohibit other payment rearrangement methods that aim to maximize the accrual of interest
Caution: Debt May be Hazardous to Your Health
The regulations are a welcome change, especially for high school and college students (and their parents) who are bombarded with credit card offers that use their financial inexperience against them, and can sometimes ruin their credit scores and leave them in debt at a very young age. Just as we do not want our children to make uninformed decisions regarding dangerous substances like tobacco and alcohol, in the eyes of the Fed it is important that we do not also expose them to the dangers of credit card debt without adequate preparation.
These introductions are part two of a three stage implementation of the Credit Act provisions by the Federal Reserve. The remaining provisions will go into effect in August of 2010.
Ask a Question