Federal Regulators Put Pressure on 1st Mariner Bancorp
The FDIC and the Maryland Division of Financial Regulation have given a wag of the finger to 1st Mariner Bank, by way of a Cease and Desist order presented last week. In a press release given Monday, 1st Mariner Bancorp, the holding company for the Bank, stated that it plans to cooperate completely with the order, and assures depositors that it will have no effect on their normal operations.

Terms of the Agreement
The Cease and Desist order, issued on September 18th by the FDIC, required the bank to stop operating with inadequate capital, poor earnings and insufficient liquidity. It also asks the bank to reduce its nonperforming loans, and to change some of its management policies. An agreement between 1st Mariner Bank and regulators, overseen by the U.S. Securities and Exchange Commission, states that the bank has promised to hold at least 7.5% of its assets as capital by June of 2010, and must collect on all loans classified as "loss" within 10 days. Within 60 days, the bank will also have to adopt a plan to reduce the number of assets classified as "substandard." Currently the bank's capital ratio is 5.8% (U.S. SEC)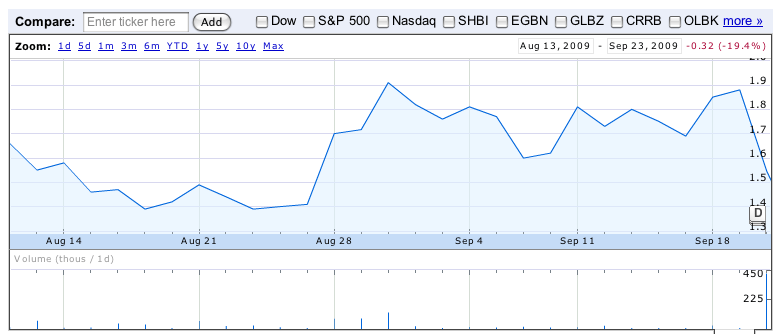 1st Mariner Cooperative and Not Worried
The Securities and Exchange Commission said that the bank has worked in complete cooperation with the FDIC and Maryland regulators. At the time of the report, 1st Mariner had already taken steps towards resolving some of the issues presented in the cease and desist, and has expressed confidence that it will be able to complete all of the requirements by the deadlines given to it by the FDIC. The agreement contains provisions for a check-up on the bank's progress in March and April of next year.

Not the First Problem for 1st Mariner
1st Mariner Bank has been under scrutiny by regulators recently due to some questionable actions by the bank's CEO Edwin F. Hale, who through 1st Mariner Bank, provided a loan to a company which bought one of his properties that was about to be foreclosed. This seems to look a lot like a CEO lending himself money to get out of a loan gone bad; especially since he sold the property for $3 million more than he bought it for in 2001. (Baltimore Business Journal) Actions like these may have been the inspiration for the Cease and Desist order, and we will have to wait until next month to see if 1st Mariner has really shaped up its practices.
Ask a Question