After rushing to the rescue of 95 banks this year, it appears that the FDIC might be nearing the bottom of its seemingly bottomless Deposit Insurance Fund (DIF). Don't worry; this doesn't mean that the FDIC won't be able to insure your deposits if your bank fails. However, in order to avoid having to dip into the Treasury Department (and taxpayers pockets) or taking loans from banks to finance further bank closings, regulators have looked to prepayment as a viable alternative.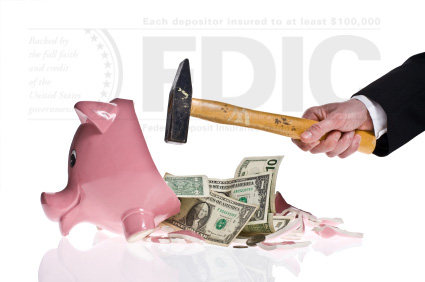 Who Bails Out the FDIC?
While 95 failed banks is certainly a lot, this year has been nothing in comparison to the recession of the early 1990's when over 500 banks failed in 3 years. (Washington Post) Still, each bank failure can cost the FDIC anywhere from $100 million to over $1 billion, and with no definite end in sight for this most recent string of failures, regulators are taking precautions to keep depositors safe. As of June, the DIF had roughly $22 billion in liquid assets, but that number has been greatly reduced as the FDIC has assumed financial responsibility of 31 banks since that time.
The Prepayment Plan
Like any insurance company, the FDIC stays profitable by assuming that the money it will receive in fees will be more than it loses in claims. While usually this is the case, this year the losses in bank failures have far outpaced the revenue from fees. In order to replenish the reserves of the Fund, the FDIC has asked a large portion of the FDIC-insured banks to pay their FDIC membership fees for the next three years up front. While banks are understandably opposed to this, it seems to be a better alternative than for banks to become uninsured, or for the FDIC to be forced to ask for additional charges on top of the normal fee. At least in this case, banks that prepay through 2012 will be able to be fee free for the next three years.
A Death Sentence for Undercapitalized Banks?
Some claim that this new obligation could be devastating for smaller banks or struggling institutions that do not have enough capital on hand to pay the large 3-year sum. While the larger banks can take the hit and spend the next few years recovering fee-free, some banks cannot afford to forfeit that kind of money upfront. The FDIC claims that while it has enough liquidity to insure deposits, without some sort of cash infusion it will lose liquidity by next year.
If the proposal is passed, however, estimates show that the Fund could return to a positive balance in 2012, and even recover back to a healthy buffer of liquidity by 2017. However, that is of course all far off at this point, and the plan will rely on the public's opinion of the plan and when the bank failure rate begins to decline.
Ask a Question