Mobile Banking May Replace Your Local Branch
According to Aite Group LLC, the number of banks in the U.S. offering mobile banking is expected to increase to 614 in 2009 compared to 245 in 2008. Banks have begun to adopt mobile banking technology after overcoming fears of low return-on-investment and risks of investing in perpetually changing technology. Other concerns included security, fraud, and lack of cellular services, such as data plans and text messaging, by the customer, which would prevent banks from providing a good user experience. Now, banks have realized the benefits of mobile banking technology because it adds value to customer service, increases product exposure to existing customers, and increases customer loyalty while being highly cost-effective.
The future of convenient banking rests on the notion that it becomes mobile, safe, and clutterless, where the majority of typical financial transactions can be conducted quickly without going to the bank.Hot selling points for financial services, as many have seen through television commercials, is the ease and convenience of mobile banking. Because a cell phone has become the necessity of everyone's life, businesses and corporations are now trying appeal to the wants of banking customers. Here are a few recent innovations that set the example for a transition to an age of truly mobile banking.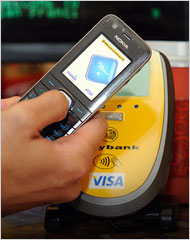 Visa's Near Field Communications (NFC) Technology
Back in April of 2009, Visa officially launched their commercial wireless payments system in Malaysia. After connecting a cell phone to a bank account, the phone that is equipped with a NFC chip allowed the user to pay for purchases when the phone is waved in front of a NFC terminal.Paying food vendors, public transit fares, parking, gas, and highway tolls is done with a phone and not with paper bills and coins. Such technology has already become popular in Japan and it is a norm to their people. The trend has not yet gotten any momentum in the United States even though similar technology, such as the Mastercard PayPass, already exists here. With Visa's NFC services soon coming to the U.S., it may push us towards mobile payments as a standard method of financial transactions.
USAA Remote Deposit iPhone App
Remote deposit is the process of depositing a check without physically going to the bank. USAA released their remote deposit application for the iPhone in August and it received $1.5 million in remote deposits within the first 3 days it was available. USAA bank users simply have to take a photo of the front and back of a check and submit the two images. The whole process takes only a few minutes and it can be done anywhere. This technology isn't new but it is new to regular bank customers because remote check deposit was mostly available only to businesses through the use of a scanner in order to electronically deposit a check. with rising competition between banks, they are racing to provide this much demanded service to their customers. If remote deposit is offered by every bank, there will be one less reason to trek to the bank and one more reason to get a smartphone with a camera.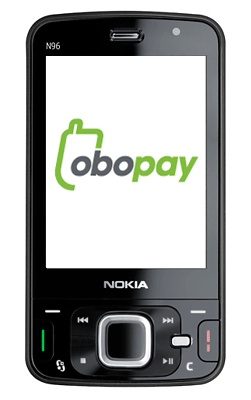 Nokia Money
A recent article at MyBankTracker.com covered Nokia's entry into the mobile financial services industry in 2010 with a new service called Nokia Money. On the basis that there are 2.5 times the amount of mobile phones as there are bank accounts in the world, Nokia intends on bringing financial services to cell phones users in places where financial institutions are scarce. In more urban areas, Nokia Money can also mimic the functions of a physical bank. Paying bills, paying merchants for goods and services, and sending money to other mobile users (through their mobile number) are all basic features of Nokia Money. It will also offer contactless payments through the use of NFC technology. Overall, Nokia Money has the goal of becoming a virtual bank.
Effects of Mobile Banking on Banks
Major banks have already implemented mobile banking into their services and many banks are doing the same. A Gartner survey showed that 59% of the largest U.S. financial institutions will be purchasing or renovate their mobile banking technology in the next 2 years. Smaller banks without the funds to invest in mobile banking technology may succumb to the competition in terms of offering convenient bank accessibility. Small banks that are able to afford mobile banking technology will find that they have a low cost channel for customer service and that may warrant the need for fewer employees to provide that same service. Brick and mortar banks will see less customers walk through the door as mobile financial services increases interactive banking from standpoint of the customer.
Ask a Question