The Concept of the Green Bank
The term "Green Bank" is a term that has taken on a variety of uses. At the most simple level it has been selected as the trading name of several private commercial banks, for example, the Green Bank of Houston, Texas, and the Green Bank of Greenville, Tennessee; although in the latter example it seems the name is probably drawn from the locality rather than suggested by contemporary connotations.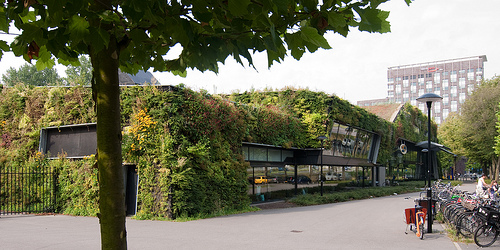 durr-architect
In the context of political economy, it has become fashionable to add the prefix green as a way to show that a policy or institution is pursuing schemes that contribute to improving the environment. In a banking context, green can be applied to a range of bank strategies and activities that could be as simple as encouraging customers to accept e-statements instead of the traditional printed notifications or as involved as actively participation in financing alternative energy projects.
While these applications of the Green Bank idea fit in well with the programs now being pursued by many leading American commercial banks, the concept is also now used in relation to public projects. Thus the Green Bank title has been appropriated for organizations set up at the federal or state level to finance schemes designed to enhance citizens' quality of life and save on the consumption of precious natural resources.
The Green Bank Act
In March 2009 Congressman Chris Van Hollen introduced a Green Bank Act with the aim of establishing a Green Bank under the ownership of the United States government with the objectives of offering financial support to efforts to increase energy usage efficiency, and to reduce carbon emissions and other environmental pollution resulting from energy creation. In addition, it is envisaged that this institution is going to work towards reducing the country's dependence on foreign energy sources, fighting climate change and creating additional jobs through the provision of healthier energy generation facilities.
The Congressman proposed establishing the Green Bank with an initial capital of ten billion dollars to be raised by a US Treasury "Green Bonds" issue with a maximum of fifty billion dollars in bonds outstanding at any one time. Although some analysts have criticized the idea of financing this Green Bank through an additional bond issue in the current financial crisis, the proposal has been broadly welcomed by a group of investors, energy industry experts and manufacturers organized under the banner of the Coalition for Green Bank. Supporters of the scheme argue that the country's present economic difficulties provide additional reasons for this initiative since the prospects of private capital investment to create new energy capacity have greatly diminished.
State Local Initiative
While the proposal to establish a national Green Bank remains under discussion, at a state level practical steps are being taken. The government recently announced the setting aside of close to twenty million dollars for a new Green Bank of Kentucky loan fund to make energy usage more efficient in that state's public buildings. Low interest loans are going to be made available to qualifying state projects with loan repayments financed from the anticipated energy savings.
Private Sector Local Initiative – a New Green Bank
With so many banks having closed or under the threat of closure it is hard to imagine a more difficult time confronting a newly established bank but the First Green Bank of Eustis, Florida has got off to a promising start since its opening six months ago. The bank describes itself as "the first bank of its kind to promote positive environmental and social responsibility while operating as a traditional bank providing excellent service to investors and clients." Its announced aim is to give a fifth of its loans to developers of commercial projects that satisfy the US Green Building Council's Leadership in Energy and Environmental Design (LEED) rating (based on various energy saving criterion). Employees of the bank who qualify for LEED certification also receive increased salaries. Within a few days of opening the bank had received $2.1 million in deposits and $51 million was waiting in its loan pipeline. This significant achievement within such a short time shows how influential the green idea has become and all current indications suggest its appeal is continuing to strengthen.
Ask a Question