CD Rates Show Improvement As the 4th Quarter Begins
With the end of the year in sight, hopes are high that the economy has bottomed out and there's nowhere to go but up. And somehow this does seem to hold true for CD interest rates as national rate averages this week held some promise for some CD terms.
The 6-month to 24-month CD yields continued to inch downward and this is not so unexpected as the Fed did say that interest rates were holding steady for the time being. But what came as a pleasant surprise was the relatively substantial rise in the long term investments, from the 36-month to the 60-month CDs. Two days into the last quarter of this year, here's how CD rates fared: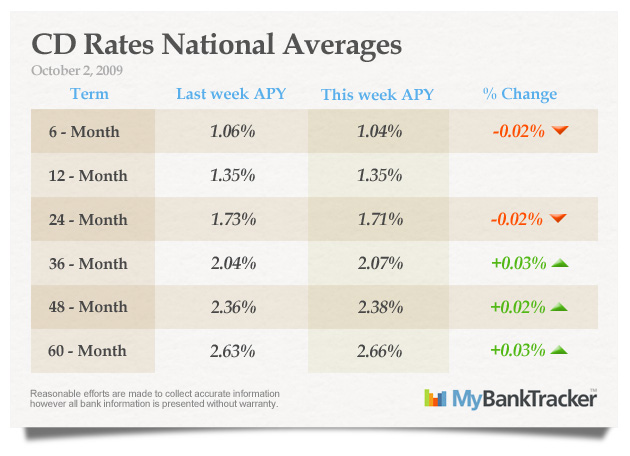 6-month CD
The CD rate average for 6-month CDs ticked downwards from 1.06% to 1.04%, dropping by two basis points this week. Even if it manages to go down by just a single basis point every week from now, it would be at the 1% mark by the end of this month.
12-month and 24-month CDs
The averages of these two CD terms both varied this week: the 12-month CD remained the same at 1.35% and the 24-month CD decreased from 1.73% to 1.71%. In general, a 0.02% cut may not seem like much but remember that these rates are some of the lowest we've seen CD rates drop down to for years now.
36-month and 48-month CDs
Obviously, it's not all bleak and gloomy news today as the 36-month and 48-month CDs surged forward this week with both averages bumping up by 2 and 3 basis points. The 36-month CD went from 2.04% to 2.07%, while the 48-month CD is now at 2.38% from last week's 2.36%.
60-month CD
The news was equally upbeat for the 60-month CD as it went up from a 2.63% average last week to 2.66% as of today. While the rate itself is far from being record-breaking high, this is the highest it's seen to date from its plunge in mid-August. The good news is that the 60-month has made a steady climb out of its August ditch.
Bank CD Rate Hikes and Rate Cuts
Let's cap this CD rate averages weekly summary with some of the more significant rate hikes and rate cuts this week.
CD Rate (%)

Bank

CD Term

From

To

% Change

Bank of Internet

12-month

1.70

2.15

0.45

Chase

24-month

2.15

2.00

-0.15

Discover Bank

60-month

3.35

4.00

0.05

12-month

1.95

2.00

0.05

48-month

3.10

2.95

-0.15

30-month

2.40

2.35

-0.05

Ally

12-month

2.00

2.05

0.05

ING Direct

12-month

1.85

2.10

0.25
Bank of Internet's unexpected 0.45% rate increase plus the fact that many banks also increased their rates sometime this week only goes to show that there are still some good CD options available, and that there is still hope that perhaps, not only the economy, but also CD rates are finally turning around.
Ask a Question