Chase & Bank of America Want To Keep You In Your Home
It's easy to be skeptical of banks implementing programs that offer friendly advice on mortgages and homeownership. After all, didn't banks get us into a housing crisis in the first place? Chase and Bank of America® may have an ulterior motive when helping you figure out how to keep paying your mortgage, but that doesn't mean that you can't make use of and benefit from their free, very informative loan assistance programs.
Home Sweet Loan
With all the changing legislature and special government offers designed to help homeowners keep their home during the economic downturn, there are many steps that the informed consumer can take to prevent foreclosure. Both Chase and Bank of America® have created comprehensive websites dedicated to providing this information to its customers, complete with questions determining your eligibility for different programs, and step by step instructions on how to deal with various issues such as refinancing and loan modification. Here is a side by side comparison of what is offered on each website:
| | Bank of America | Chase |
| --- | --- | --- |
| Downloadable Forms | Mortgage Eligibility Document | Borrower Financial Information |
| | | 4506-T |
| | | Home Affordable Modification Program Affidavit |
| Advice Topics | | |
| Refinance | Y | Y |
| "Scam Avoidance" | Y | Y |
| "Making Home Affordable" Plan | Y | Y |
| Foreclosure | Y | Y |
| Loan Modification | Y | Y |
| FHA Loans | N | Y |
| Helpful Links | US HUD | Mortgage Fraud and ID Theft |
| | Hope Now | Federal Reserve Foreclosure Tips |
| | | FTC Scam Avoidance |
Moving Forward with Loan Transparency
Both of these programs demonstrate a desire for transparency in the home loan process. In addition to the website, Bank of America® offers an online, interactive home loan guide, that walks you through the process of buying a home with easy tools that calculate your expenses, and explains the loan process.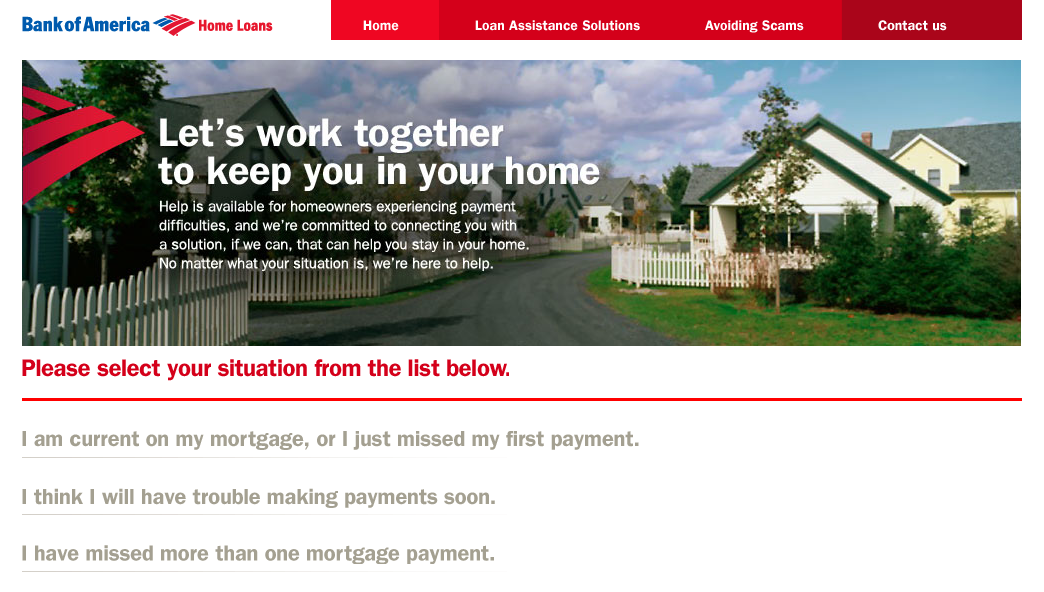 JP Morgan Chase is also involved with an online informational series, The Way Forward, which helps to keep consumers up-to-date with changes in the world of loans and mortgages. It also offers three "Focus" videos that offer information and perspectives from homeowners facing foreclosure in Riverside, California.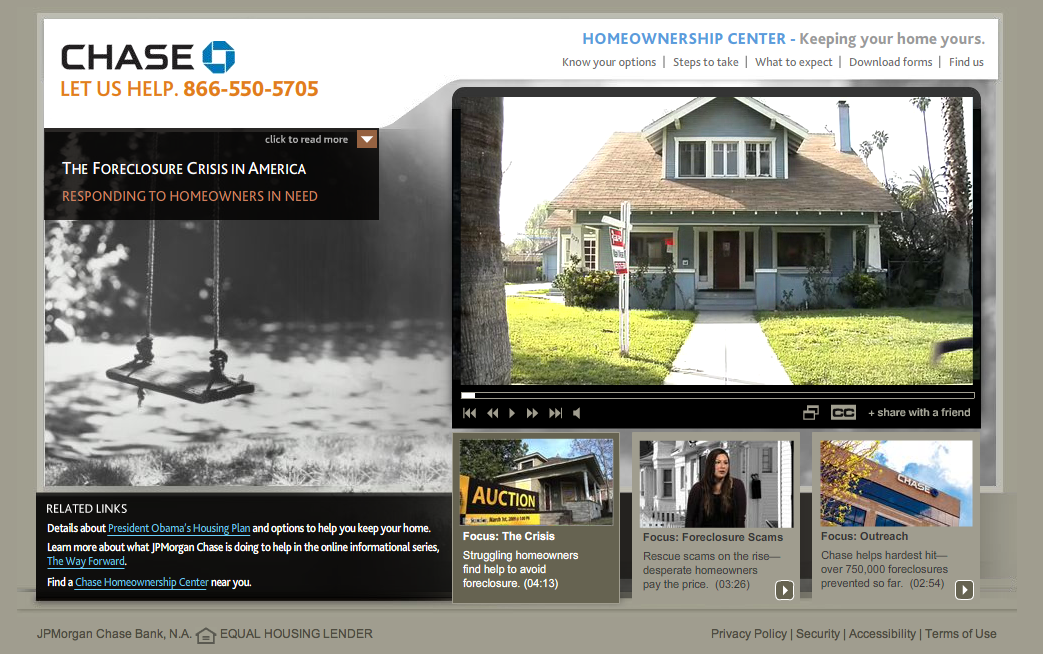 These programs demonstrate a desire of these two banks to increase their transparency and attempt to create a more "consumer friendly" image after many banks have lost consumer confidence due to the financial crisis. It also reflects the initial effect of the Truth in Lending regulations implemented this year, including the Home Mortgage Disclosure Act.
Ask a Question