Bank of America to Test Its Own Mobile Deposit Service Soon
Hot on the heels of USAA's check deposit for iPhone feature, Bank of America® is looking to conduct initial tests on its own mobile service that will allow customers to deposit their checks electronically using their smart phones.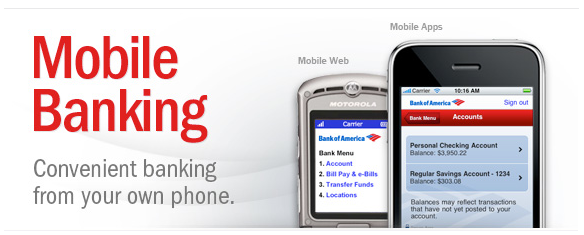 According to American Banker, the planned series of tests is anticipated to commence this year, primarily as an upgrade to the bank's existing iPhone application. If this goes well however, expectations are high that the tests will be continued through next year to accommodate clients with Blackberry devices and mobile phones using the operating system Android from Google.
The remote check capture and deposit technology is still an emerging one, but the country's largest bank embracing and offering such a technology is akin to putting a stamp of approval on it. Bank of America® may not be the first to offer the service, but with the influence that it yields, this move would likely be followed by the other big banks, boosting such facility to become a new banking norm.
Not that the pioneering iPhone application introduced by USAA Federal Savings Bank is doing too shabbily either. In fact, it's safe to say that the bank scored itself a major hit. Data shows that within the first three days of the launching of the service last Aug. 11, customers already deposited more than $1.5 million in deposits into their accounts using this facility. In six weeks time, the application was already downloaded by about 270,000 USAA clients, and more than 40,000 of them actually used it to deposit a staggering $61 million in total deposits. Not bad for a service that was practically non-existent until now.
When it comes to mobile banking however, Bank of America® is still the bank to beat. A recent survey by the research company ComScore Inc. named Bank of America® as the top mobile banker, estimating that the bank has 35% of the market share of US consumers using mobile banking services. Chase Bank is a far second with a 12% share, followed by Wells Fargo with 9%, and Citigroup with 5%.
Bank of America®'s mobile service which was started in May 2007, is offered free to online banking clients, and is available through most smart phones particularly iPhones, Blackberries and Androids. To date the services most widely used by consumers are account balance inquiry and bills payment.
Now, if even only half of Bank of America®'s more than 2 million mobile banking customers were to utilize the mobile check capture technology as soon as it is made available, it would certainly create enough of an impact on the mobile banking industry for other banks to want to jump on the bandwagon too. When that happens, banking convenience will certainly be taken to the next level.
Ask a Question