Take a Vacation from High Foreign Exchange Fees
When you're planning a trip overseas, the last thing you want to have to factor into your budget is the cost of accessing your money in a foreign country. However, with the dollar exchange rate as low as it is, now more than ever how much you spend to convert your money to the local currency matters. In order to help you avoid some of these surcharges and currency exchange fees, we have compiled a list of the international fees charges by major U.S. banks.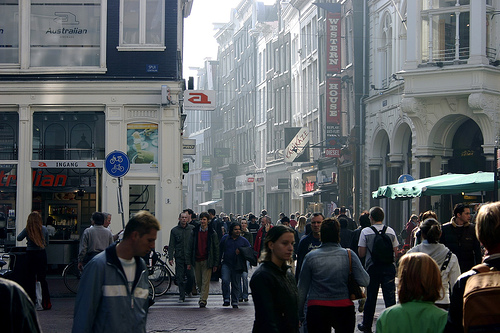 Since people have different preferences in how they access their money while abroad (credit card, ATM debit, traveler's cheques), we've provided a little information on the pros and cons of each.
Credit Cards
Credit cards generally charge you in the currency of the country you are in, which is great if you're in, say, Santiago, but not so good if you're in London. The standard international usage rate for a credit card is 1%, imposed by the international network, and includes exchanging the money into US dollars, but often the US bank will tack on an additional charge anyway.
Avg. Cost: 3% of purchase
Use for: Larger purchases, emergencies
ATM Cards
Making a withdrawal at an international ATM is probably the easiest way to obtain cash when in a foreign country. With expanding networks that now offer locations worldwide, you can often find ATMs that offer international withdrawals that do not cost any more than your local machines. However, there are some banks that charge a flat rate of around $5, or a 1% withdrawal percentage fee, or both.
Avg. Cost: $5 or 1% of withdrawal
Use for: Cash withdrawal
| Bank Name | Credit Fee (%) | ATM Fee ($/%) | Other |
| --- | --- | --- | --- |
| Bank of America | 3% | $5/1% | Free at "Global Alliance" ATMs |
| Barclaycard | 2-3% | n/a | |
| Capital One | 0% | n/a | |
| Citibank | 3% | $1.50/1% | Only 1% at Citi branches overseas |
| HSBC | 3% | n/a | |
| JP Morgan Chase | 3% | $3/3% | |
| US Bank | 3% | $2/1% | |
| USAA | 1% | $0/1% | |
| Wells Fargo | 3% | $5/0% | |
Note: Some international ATMs use different chips which might not read your card and could even cause it to be held by the machine. Be sure to match the Visa or other symbol on the machine and the back of your card to make sure that it is in the same network and will accept your card. There is nothing worse than having to try and explain that you need to get your card out of an ATM machine in a different language.
Traveler's Cheques/US Dollars
Before ATMs became so widespread and networked, bringing a certain amount of cash or traveler's cheques was a good way to ensure that you could have some local currency on hand. Today, however, it is generally more expensive and dangerous to exchange money in this way. Local currency exchange fees vary widely, and often are a rife with counterfeits and other forms of fraud. If you have to exchange cash or cheques, try to do so at a licensed exchange bureau in an airport or embassy, or at a larger well-known bank.
If you plan on traveling outside the US a lot, it might make sense to get a card from a bank like Capital One or USAA that provides exchange services at a lower rate. If you travel often to a specific country or will be in one country for a extended period of time, opening a local account to avoid exchange rate fees might be a good idea. Whatever bank you use, to minimize charges follow the rule of thumb–putting large purchases on your credit card, while using your ATM card to withdraw the local currency, and avoid the high commission and bad exchange rate imposed by changing cash and cheques at foreign currency exchange bureaus.
Ask a Question