Wells Fargo gets "Exceptional" with Mobile Banking Services
In a study conducted by ABI Research of 29 banks offering mobile banking services to their customers, Wells Fargo & Company got an "A" or "Exceptional" grade for their services. Scores were based on reach, breadth of services offered, security, and discoverability of mobile banking services and consumer information.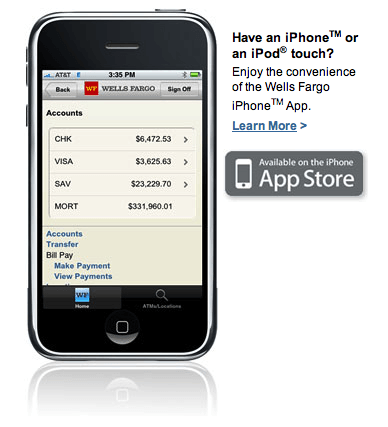 Wells Fargo was one of the pioneering banks in mobile banking services. They were the first major financial service to offer small business and consumers' mobile website and text-based account services in October 2007.
Wells Fargo & Company. Secil Watson, senior vice president, Online Customer Experience Management, Money Movement Solutions and Retail Mobile Banking, statement:
"We're pleased to be recognized as a leader in mobile banking. We created our mobile website and text banking services more than two years ago with a focus of a clean and simple design to ensure easy account access to our customers. Our customers want to be in control of their money, and mobile banking is one more way we're offering anywhere, anytime access."
Mobile Banking with Wells Fargo
Mobile banking services are available through two options, access through its mobile website or text messaging. Wells Fargo offers a degree of flexibility with their service by offering basic phones without online access the option of checking their accounts online through text messages.
Mobile Website
Making mobile banking transaction is easily done by logging on to Wells Fargo online site at WF.com, below are the services offered.
Easy and secure access to review account balances and activity
Transfer funds and pay bills
ATM locater
Text Message
For customers who don't have online capable phones, Wells Fargo has introduced a simple way of accessing your account information. Codes are sent through "93557" or "WELLS" to get account information. However, services are limited to viewing account balance and history.
Type "bal" and send to "93557" for primary account balance
Type "bal all" and send to "93557" for all account balances
Type "act" for recent account activity
Wells Fargo mobile transactions are covered by the same Online Security Guarantee provided with its online banking services. Text banking uses nicknames instead of account numbers and provides information similar to ATM receipts for added security.
Many banks today have not even introduced their own version of mobile banking services to its customers. With major banks poised to enter the realm of mobile banking, smaller banks may have to watch in the sidelines again and see how the big boys do it.
Ask a Question