Capital One Direct Raises Their CD Rates
Capital One Direct has posted some big increases in its longer term CDs today, including the biggest jump, from 1.50% to 2.95% in its 48 month term CD. Other term CD that experienced a rate increase were the 18 to 36 month CDs, as well as the 84 month CD.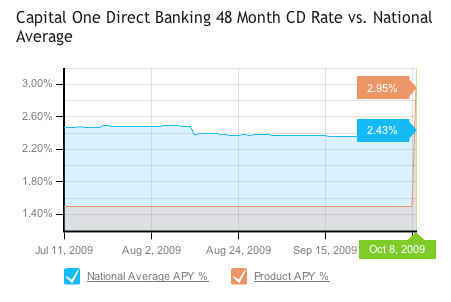 This increased rate makes Capital One Direct competitive with other top long term CD rates from banks such as Ally, which also offers a 48 month CD with 2.95% APY, and even larger banks like Bank of America® or ING Direct, which offer 48 month APYs of 2.75% and 1.75%, respectively.
These new Capital One Direct rates are subject to change, but are locked for 10 calendar days at time of account opening to allow you time to fund your CD. If the bank receives your funds within 10 calendar days of the day you opened your account, you will receive the rates that were posted on your application date. Accounts funded after the 10 day period will receive the rate effective at the time of funding.
Ask a Question