Like News, CD Rates This Week Reveal Mixed Signals
Headlines on the economy this week was a varied mix of slightly encouraging and somewhat disappointing news. On the one hand, retailers reported better-than-expected sales for the month of September, fueling hopes for a merrier holiday season. At the same time, first-time claimants for jobless benefits fell by 33,000 to 521,000, the lowest level since January this year. Could we perhaps be finally seeing the effects on the consumer of an easing economy?
On the other hand though, Fed Chairman Ben Bernanke again declared last Thursday that interest rates were staying at their low levels (near-zero) for the time being. While this news may be nowhere near surprising, hearing it said for the umpteenth time doesn't exactly make one's day.
Regardless of what the Chairman says though, CD averages still showed some gains this week. In fact, this week's CD rate averages were a bit like the news we gleaned: a combination of highs and lows.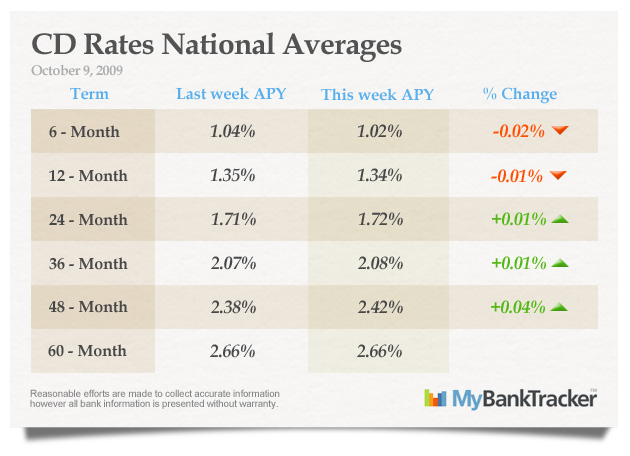 6-month and 12-month CDs
Because it is anticipated that CD rates have nowhere to go but up as soon as the country is back on track, these days are an ideal time for buying short terms CDs. Unfortunately, the rate averages for these terms both ticked downwards this week by 0.02% and 0.01% for the 6-month and 12-month CDs respectively.
24-month and 36-month CDs
Rate averages for 2-year and 3-year CD yields improved slightly, going up by one basis point each. The 24-month CD went from a previous 1.71% to 1.72% this week, while the 36-month CD's 2.07% APY last week inched up to the current 2.08%.
48-month CDs
As with last week's 48-month CD averages, 4-year CD rates also showed positive gains this week, increasing by as much as 4 basis points which is a rare feat these days.
60-month CDs
Only the 5-year CDs remained the same for now, maintaining the previous week's yield at 2.66% APY.
Bank CD Rate Hikes and Rate Cuts
If you're wondering where the slight changes in the CD rate averages came from, here are the major movers and shakers for this week:
CD Rate (%)

Bank

CD Term

From

To

% Change

Capital One Banking

48-month

1.50

2.95

1.45

24-month

1.01

2.30

1.29

36-month

1.01

2.00

0.99

84-month

1.50

2.40

0.90

Excel National Bank

3-month

0.75

1.25

0.50

newdominionDIRECT

9-month

1.25

1.67

0.42

48-month

3.01

2.86

0.15

National Bank of Kansas City

3-month

1.00

0.50

0.50

National Bank of Kansas City

6-month

1.00

0.75

0.25

Citibank

60-month

3.50

3.25

0.25

Citibank

18-month

1.75

1.50

0.25

Allstate Bank

36-month

2.25

2.01

0.24
Capitol One's CD rate hikes, most of which were way above the usual yield increases given by banks at a single time, obviously were a big factor in this week's changes in CD rate averages.
Let's wait and see whether some of these increases in CD yields will stick around long enough to make it to the best CD rates list for next week.
Ask a Question