Online Banks Dominate the Best CD Rates for Week Starting October 12, 2009
The past week ended quietly for the FDIC last Friday – at least as far as bank failures are concerned. This is the first time in three months that no bank was closed over the weekend, even as the number of closures for this year nears the 100th mark. The FDIC skipping a week is certainly a welcome reprieve, not only for the banks and consumers, but also for the agency itself which is already feeling the strain of the costs that the slew of bank failures has brought on.
So is this perhaps a foretaste of better things to come? It would be quite foolhardy to rush to that conclusion just yet. Fact is, while the nation's largest banks are slowly building up their fortunes again as the economy gets better, banks deemed "too small to save" are still bound to close shop within the next few years.
And while we're still looking forward to a best case scenario, we can't also help but wonder how this would affect the country's savers. Fortunately for those who are diligently saving up, there are still more than a few options when looking for competitive CD rates than just your friendly neighborhood bank. Case in point: this week's best CD rates come from online banks. Here is the full list: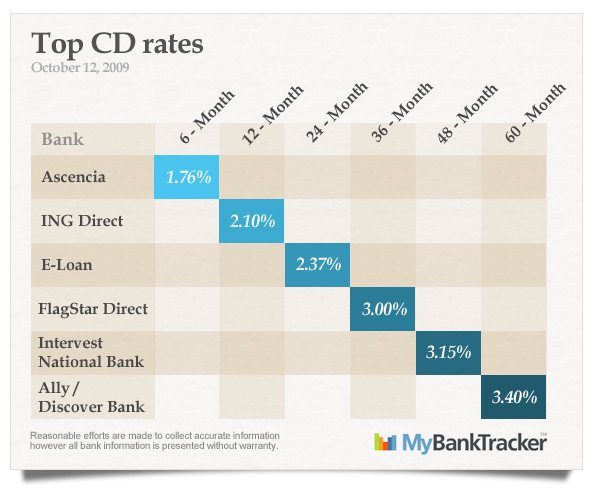 6-month CDs
Ascencia still has one of the highest offerings for the 6-month CD at 1.76% APY. If you're looking for another winning deal for short-term investments however, don't forget that Everbank's Yield Pledge Money Market Account still guarantees a 2.51% APY for the first three months.
12-month CDs
Last week's top 12-month CD rate of 2.15% from Umbrella Bank was slashed by the bank to only 2.02% recently. But what bank customers lost from Umbrella Bank they stand to gain from Amboy Direct and ING Direct this week, with both online banks offering 2.10% APY for a 1-year CD.
ING however, has much more in store for the consumer with its Added-Value CD that gives an additional 0.15% for new funds deposited. That would give the ING depositor a total of 2.25% APY, a deal matched only by MetLife Bank's promo rate. MetLife however, requires a $25,000 minimum while with ING Direct, any opening amount is accepted.
24-month and 36-month CDs
Both E-Loan and Flagstar Direct maintain their hold on the top spots for 2-year and 3-year CD rates respectively, and without any changes on the CD rates. E-Loan is at present, giving 2.37% for the 24-month CD, while Flagstar Direct's 36-month CD is at 3.00% APY.
48-month CDs
Although still retaining top spot for the best CD rate for the 4-year term, Intervest National Bank lowered its rate from 3.20% to 3.15% APY.
60-month CDs
Citibank also dropped its previous 60-month CD yield from 3.50% to 3.25% APY. As a result, the banks just close behind it also closed in to share the top spot for the highest 5-year CD rate. Ally, Discover Bank, E-Loan, and Onewest Bank all offer 3.40% for this long term CD.
Find out if your bank is presently giving the same good deals by checking out our comprehensive database of nationally-available CD rates today.
Ask a Question