Citibank Launches Mobile Banking Application in Spanish
Citibank recently unveiled Citi Mobile en Español, the first and only mobile banking application in Spanish offered by a major US bank. This facility will allow the bank's Hispanic clients to do banking transactions from their smart phones using Spanish as their preferred language.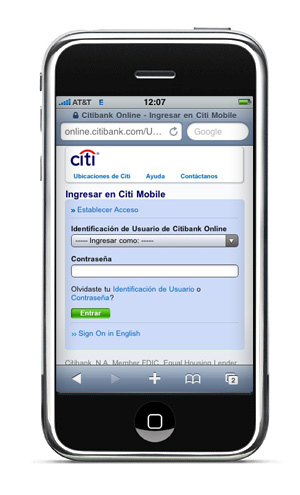 Citi executive vice president for North America internet and mobile Liza Landsman reveals that "Hispanic customers make up almost one quarter of our customers." A recent report on Wireless Internet Use from Pew Research also shows that Hispanics are among the most active mobile-based Web users. More specifically, almost half of English-speaking Hispanic consumers acknowledged using a cell phone to access the internet in 2009.
With the convenience that Citi Mobile en Español offers, banking anytime, anywhere through their smart phones and in their chosen language at that, takes on a whole new meaning for this particular customer base of the giant bank. Citibank is also conducting employee training on a national scale so that branch staff can familiarize themselves with the service and be able to address customers' concerns about it.
The Spanish-language application is actually a replicate of the English-based Citi Mobile for Smartphones, and can be used on such handheld gadgets as Blackberry smart phones, Palm devices, and Apple's iPhones. Accessing either the Spanish or English interface of the Citi Mobile, the consumer is given the capability of performing such functions as:
Viewing account balances and review transaction activity;
Transferring between Citi accounts;
Making bill payments and setting these bills up so that they are paid on a regular basis;
Searching for Citi branches and ATM locations;
Connecting with customer support.
Citibank was also the first bank to offer online banking in Spanish back in 2004. According to Citi Mobile Director Marylou Dowd, this latest service provided by the bank serves as a "tangible proof of Citi's commitment to ensuring that customers in this important and growing segment can manage their money anytime, anywhere – regardless of their preferred language."
Citi Mobile for Smartphones is Citibank's mobile banking application designed and developed with the help of Mobile Money Ventures, a joint enterprise by Citi and SK Telecom that creates applications for use in mobile financial services globally.
Ask a Question