Banks' Market Shares In New York-New Jersey Area Show Changes
A recently-released data from the FDIC shows some significant changes in banks' market share in the New York-New Jersey Metropolitan Statistical Area from a year ago before the financial crisis went full swing.
What remains unchanged however, is the dominating share that JPMorgan Chase holds in this particular market, making up for almost a third of the entire deposit volume of the area. The next top 7 to 8 banks make up for another third of the market share, while the last 31% or so is distributed among all other banks.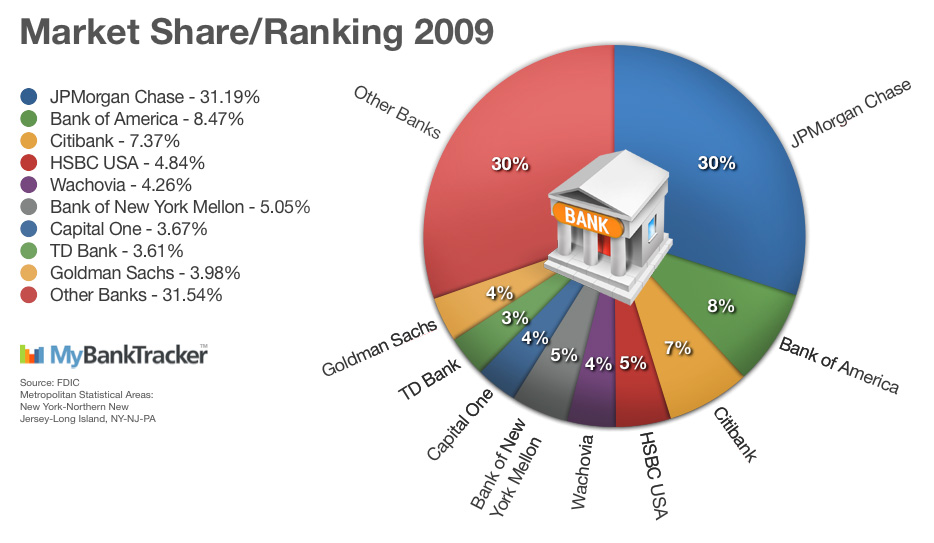 Other than Chase Bank's obvious hold of the market, another factor that is quite apparent in the above data is the increase in deposit volume of Chase (29.80% to 31.19%), Bank of New York Mellon which rose from sixth to fourth place (4.21% to 5.05%), and Goldman Sachs Bank USA, which acquired a 3.98% share as of June 30, 2009, edging out TD Bank from the top 8. These banks are known to be three of the most successful banks in the investment banking and asset management division.
On the other hand, Bank of America® and Citibank, two of the largest banks most affected by the crisis, saw their market shares dip slightly; BofA from 8.64% to 8.47%, and Citi from 8.00% to 7.37%. Both banks however, retain their 2nd and 3rd rankings.
Ask a Question