CD Rate Averages Rise and Fall Amid Bank Earnings Reports
JP Morgan Chase may have scored big the past quarter with its reported earnings of almost $3.60 billion, but Bank of America® continues to struggle, and today announced a loss of $2.24 billion.
Bank of America®'s newly-acquired investment bank Merrill Lynch did make some profit from bond, stock, and currency trading, but unfortunately this was not enough to cover for rising losses from failed consumer loans. Both banks maintain that at this point, recovery is still very slow especially in the consumer loans market.
Now the question remains as to how the revenue reports of the country's top banks affected current CD rates. It's too soon to tell, but whether or not CD trends this week may somehow be connected in any way to the 3rd quarter results, one thing's for sure — CD rate averages are going the same way as they did last week.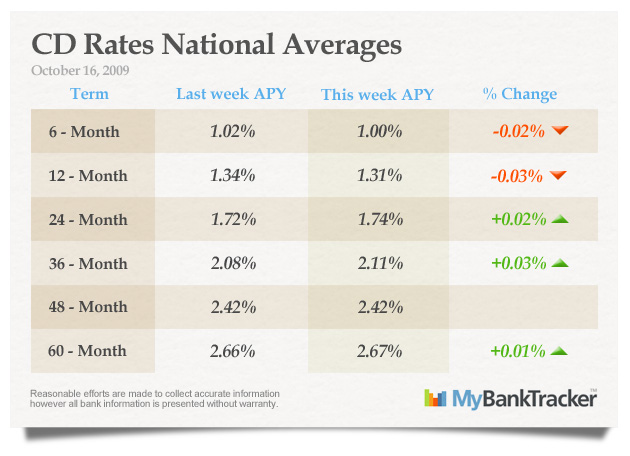 6-month CD, 12-month CDs
The 6-month and 12-month CD rate averages are continuing their downward slide which started two weeks ago. This week, the 6-month CD dipped further from 1.02% to finally hit the 1.00% mark. Will we be seeing a less than one percent average for 6-month CDs next week? That possibility is not too far off now.
In the meantime, the 1-year CD rate average inched even further downward, going from 1.34% to 1.31% this week, or a 3-basis point decrease.
24-month, 36-month CDs
As with last week's results, the 2-year and 3-year CD rate averages saw positive gains this week, with the 24-month CD ticking upwards from 1.72% to 1.74%, and the 36-month term now having an average of 2.11% from 2.08% previously.
48-month CDs, 60-month CDs
The 4-year and 5-year CD rates showed little or no changes at all, with the 48-month CD maintaining an average of 2.42%, and the 60-month CD just showing a single basis point hike from 2.66% to 2.67%.
Bank CD Rate Hikes and Rate Cuts
Quite a number of banks adjusted their CD rates this week, although none were too high or too low so as to cause sudden surges or dives in the national averages. Astoria Federal had the highest rate increases this week, while UFB Direct and Valley National Bank made the most and lowest rate cuts. On the whole however, this week's changes in the CD rate averages were hardly significant enough to be conclusive of things to come in the next few weeks. So as always, savers will have to sit tight and wait until the report from banks are deemed good enough to merit better CD rates.
Ask a Question