Best CD Rates Get a Boost This Week with Hudson City Savings Bank
We've gotten so used to seeing the same banks with the same rates in our weekly list of best CD rates that when a bank comes and offers some of the top CD rates around, we can't help but wonder why we don't see more of these rate levels any more. Where have all the good rates gone? Fortunately this week, we have some new better-than-average CD rates to introduce to the country's savers – provided you are in the right area, of course.
Apart from the shorter 6-month and 1-year CDs, this week's roster of the best CD rates is pretty much dominated by New Jersey-based Hudson City Savings Bank. This bank, which prides itself as having been chosen by Forbes as "The Best-Managed Bank in 2007 and 2008", has over 125 branches scattered across New Jersey, New York, and Connecticut. If you live outside these three states, we are also highlighting the best CD rates you can get from online banks.
That said, here are the top CD rates for the week starting October 19, 2009: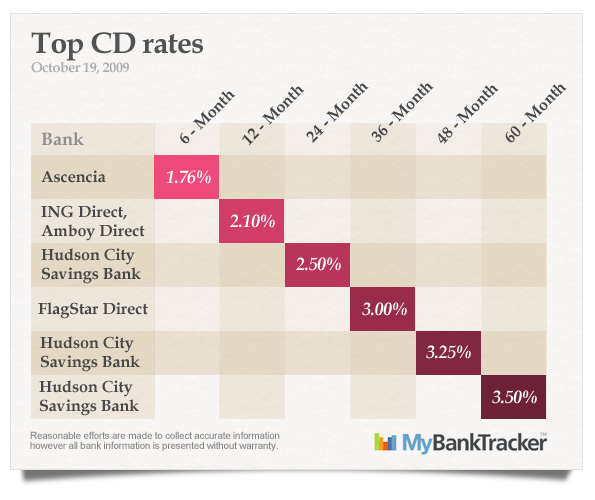 6-month CDs
Ascencia continues to hold the top spot for the 6-month CD, with its rate consistent at 1.76%. Another winning deal for a short-term investment is Everbank's Yield Pledge Money Market Account that continues to give a 2.51% guaranteed APY for the first 3 months.
12-month CDs
For 12-month CDs, ING Direct and Amboy Direct still have the best rate at 2.10% APY, although ING holds an edge with its "Added-Value" of 0.15% for new money placements, for a 2.25% total yield. MetLife Bank's 12-month promo rate at 2.25% also continues. In the meantime, Umbrella Bank also slightly raised its 12-month rate from 2.02% to 2.06%.
24-month CDs
For a couple of months at the very least, E-Loan was giving the highest 2-year CD rate at 2.37% APY. But E-Loan is now only second to Hudson City Savings Bank which has easily upped the ante with its 2.50% APY offering for the 24-month CD.
36-month CDs
Flagstar Direct now shares the spot with Hudson City Savings as the bank with the best 3-year CD rate at 3.00% APY. Discover Bank and American Express Bank are a far second at 2.75%.
48-month CDs
Again, Hudson City Savings Bank has the best rate for the 4-year CD term at 3.25%, while previous forerunner Intervest National Bank dropped its rate from 3.15% to 3.10%.
60-month CDs
Hudson City Savings Bank is once again tops for the 5-year CD with a rate offering of 3.50% APY. It's also worth noting that Hudson City only requires a $500 opening deposit for these great rates. At 3.40% however, Ally, Discover Bank, E-Loan, and Onewest Bank are still good alternatives to consider.
When times were better, the highest CD rates featured today would not warrant a second look from depositors. But these days, it's really seldom that we find CD rates this competitive. Your best bet would be to lock in on a good CD rate as soon as you find one, before they go down.
Ask a Question