Best CD Rates Hold Their Own This Week
News of the number of bank failures topping the 100 mark (106 to be exact) hit last weekend, bringing to attention the serious plight that many of the country's smaller banks still face.
Despite this development however, the best CD rates this week fortunately showed little changes from last week's roster even as CD rate averages last week dropped further, with the average for 6-month CDs finally moving down past the 1.00%-mark. But thanks to Hudson City Savings Bank and a handful of online banks, savers still have some pretty good CD deals where they can put their funds in.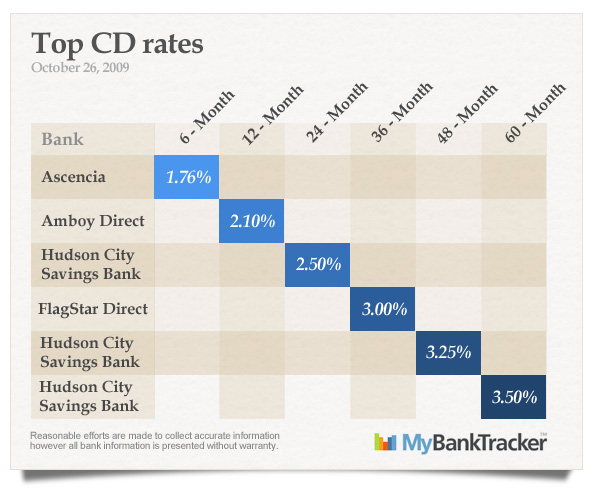 6-month CDs
Ascencia has remained unbeatable for the past few weeks, months even, with its 1.76% offering for a 6-month CD.
12-month CDs
ING Direct dropped its CD rates last week including the 12-month CD from 2.10% to 1.75% APY. By simply maintaining its own 2.10% 12-month CD yield, Amboy Direct therefore, now solely holds the best 1-year CD rate offering. Umbrella Bank still comes close though with a 2.06% APY offer.
24-month CDs
Hudson City Savings continues to give some of the highest CD rates for 2-year CDs, with a 2.50% yield for only a minimum of $500. For those who are not within easy reach of Hudson City's 125 branches across New York, New Jersey, and Connecticut, Discover Bank's 2.35% APY for the 24-month CD, is a good alternative as well.
36-month CDs
As with the previous week's list, both Hudson City Savings Bank and Flagstar Direct offer the highest CD rate for the 3-year term at 3.00% APY. Again, Discover Bank is second, offering 2.75% APY for a minimum of $2,500.
48-month CDs
Hudson City Savings Bank also continues to hold the top spot for 4-year CDs, maintaining its attractive 48-month CD yield of 3.25% APY.
60-month CDs
For 5-year CDs, Hudson City Savings Bank still gives the best CD rates at 3.50% APY. Other competitive rates worth considering are from Discover Bank and Onewest, Fsb at 3.40%, and Ally at 3.35% with $0 minimum deposit required.
For an updated list of the best CD rates in your area, check our comprehensive database of CD rates available.
Ask a Question