Visa Sponsorship of the Olympic Games Extends to 2020
It's almost Olympics season again, and with the countdown to the 2010 Vancouver Olympic Winter Games nearing the 100 day mark, Visa has decided to continue its long standing relationship as the sole payment services sponsor of the games by extending its Olympic contract for an additional 8 years.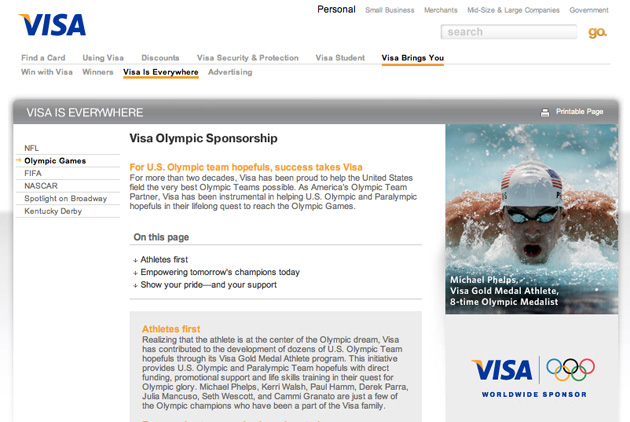 Visa Is Everywhere
Visa has been an official sponsor of the Olympic Games since 1986, and as such has had exclusive rights as the only card accepted at the games. The contract extension will continue this tradition for the upcoming Vancouver Olympic Winter Games, as well as the 2012 London Summer Olympic Games, the 2014 Sochi Winter Games, the 2016 Summer Olympic Games in Rio de Janeiro, as well as the 2018 and 2020 Games, the locations of which are yet to be decided.
The Card of Champions
In addition to offering Olympic related benefits and being the only card accepted for official Olympic purchases, Visa also is a proud direct sponsor of many Olympic and Paralympic athletes and hopefuls. The company has provided funding and financial support to many Olympic champions, including Michael Phelps, Kerri Walsh, Paul Hamm, Derek Parra, Julia Mancuso, Seth Wescott, and Cammi Granato, to name a few.
Visa also helps support the U.S. Olympic Team, one of the few teams in the world that does not receive government sponsorship. Instead, by using your Visa card to purchase U.S. Olympic Team merchandise, you are helping to support the U.S. Olympic Team in its training and quest for Olympic gold.
To support the US Olympic Team, visit their website at www.teamusa.org
For more information on Visa's Olympic Sponsorship, visit the Visa Olympic webpage here.
Ask a Question