Treasury Secretary Geithner Expects More TARP Repayments Coming
As far as the federal government is concerned, propping up the country's big banks deemed "too big to fail" during the height of the financial crisis was a step in the right direction, one that has averted a more severe economic disaster, and a gamble that is now literally paying off. In fact, judging from what U.S. Treasury Secretary Timothy Geithner recently said, American taxpayers can rest easier now.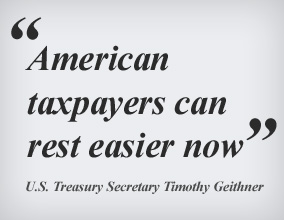 In a speech before the annual meeting of Securities Industry and Financial Markets Association in New York last Tuesday, Geithner revealed that several of the more stable banks were already able to pay their borrowings availed under the Troubled Asset Relief Program (TARP) including JP Morgan Chase and Goldman Sachs Bank USA.
He also expressed confidence that with the economy showing more activity, more banks could follow suit. "I expect you'll see capital come back fairly quickly," Mr. Geithner said.
While scant details were offered as to exactly when these repayments will come, and how much has been paid by or will be coming from what companies, it is reported that about $71 billion in taxpayer money has already been returned to the government's coffers.
On the other hand, Geithner was also quick to acknowledge that there are still a number of companies including those in the auto industry and financial companies where repayment would be slow in coming. "In the event of slow recovery in auto sales it is going to take some time for the government to be repaid," he said.
Among the financial organizations that may fall under this category are hundreds of smaller community and regional banks, as well as two of the biggest recipients which have been continually under fire since being associated with financial instability – Bank of America® and Citibank. About $134 billion still remains spread out among all these institutions.
The Troubled Assets Relief Program expires come December 31, 2009 unless Geithner finds reason to extend it until October of the following year. Due in part to bank repayments that have been made, the program still has about $317 billion in uncommitted funds as of the end of September.
Ask a Question