Mortgage Rates Are on the Rise, But What About CD Rates?
For the third straight week, interest rates for 30-year home loans rose to 5.03%, up from 5.00% only a week before, according to mortgage firm Freddie Mac. Despite this development, mortgage rates are still attractive enough for potential home buyers or those looking for a refinance to take notice.
But what of CD rates? Shouldn't an increase in mortgage rates also translate to an increase in savings deposit rates? Well, not necessarily. Rates on 30-year home mortgages are typically tracked on long-term Treasury bonds, while CD rates are dependent on a number of factors including the Federal Reserve lending rates, which unfortunately at this time, are at near-zero levels.
Given this premise, let's check out how CD rate averages fared this week: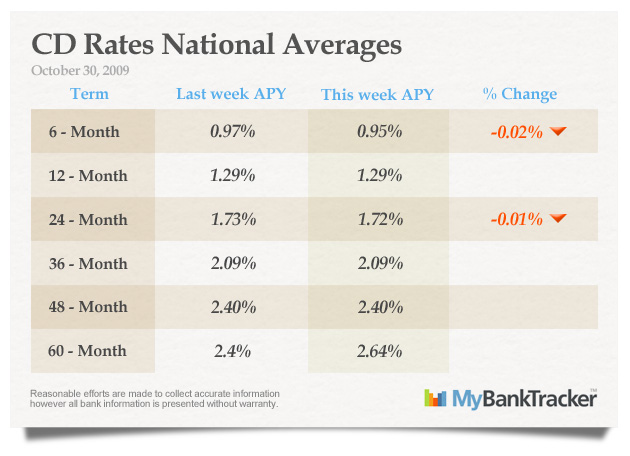 In general, national averages for CD rates this week showed some improvement as compared to the previous weeks' steady decline. While the nation's savers can certainly do a lot better than these CD yields, stopping the downward trend is a good start as any.
6-month and 24-month CDs
The 6-month and 24-month CD terms were the only ones to inch downward this week by 0.02% and 0.01% respectively. The 6-month CD dropped further from the 1.00% mark to 0.95% from last week's 0.97%.
12-month, 36-month, 48-month, and 60-month CDs
When CD rates are falling steadily as they have been for the past few weeks, seeing them maintained at the very least is still welcome news. One-year, 3-year, 4-year, and 5-year CD rate averages have remained at 1.29%, 2.09%, 2.40%, and 2.64% respectively.
Bank CD Rate Hikes and Rate Cuts
Although a number of banks did make significant rate cuts for the past few days, some of these reductions were also offset by some rate hikes made by a handful of banks.
It's interesting to note that Ally Bank, whose parent company GMAC Financial is reportedly in talks for another round of government aid, has made the most number, if not the largest ones, of rate cuts this week. HSBC Direct and HSBC Bank USA are two other banks which have made a number of sizeable rate reductions.
To check if your bank has perhaps raised or lowered their CD yields for this week, visit our CD rates page.
Ask a Question