Bank of America's New Ad Campaign Promotes Banking Transparency
Bank of America® thinks that it has found the right marketing campaign to attract the modern banking consumer. Overall, customers today are not so happy with their banks. Everywhere in the news are complaints about overdraft fees, and our review pages are generally filled with more bad news than good. Much of this can be blamed on the fact that consumers do not feel like there is much transparency in the banking world, and are having a hard time trusting large banks who have required taxpayer money to stay afloat; they very rarely know what is going on with their bank until it already happens, and so want to know firsthand what they can do to be more informed.
Bank of America®'s New Campaign
Bank of America® is trying to do away with this closed image of banking with its new, $40 million ad campaign that attempts to portray the Bank as more open and transparent. Pointing to some of the banks very advanced products, Bank of America® relates to the consumer in simple terms how these products can be used to keep you up to date on your accounts and help save you money. For example, one ad demonstrates how your mobile banking account can provide you with text alerts if you have a low balance, while another shows how you can save while you spend with Bank of America®'s "Keep the Change" program. The ads aim to rebuild a sense of trust between banks and consumers.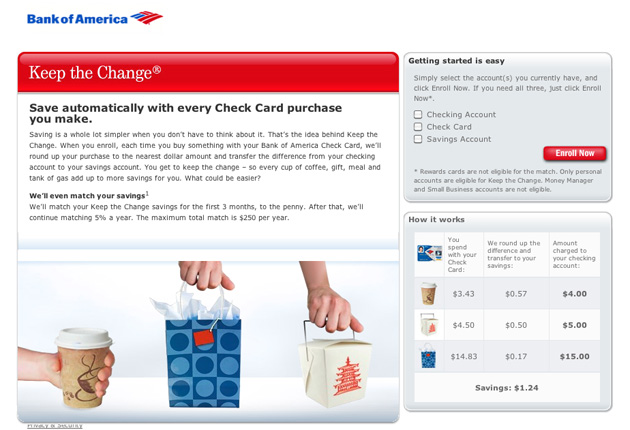 Turbulent Times Call for A New Approach
The new ads are based on research that shows that during such a time of financial crisis, people are less interested in bigger picture ideas about banking, but rather are looking for clarity and straightforward ways that their bank can help them save money and get through their financial troubles. Rather than wanting to hear about the loftier goals and the branding image of the company, people want to hear direct information about how the banks product can help them directly. Bank of America® hopes this image of themselves as a bank that talks simply and directly to the consumer can help rebuild some of the trust lost during the financial crisis.
This is especially important for relatively new products like mobile banking, which have only began to garner mainstream consumer interest. Due to its role in bringing banking transparency through providing immediate, up-to-date information to the consumer, promoting mobile banking could become much more poplar for people looking for clarity in their banking in the future.
Ask a Question