Keeping a Watchful Eye on FDIC Operations
The FDIC is never long out of the news these days. Its policies and their implementation continue to exercise a powerful influence over the health of American banking. While its actions are continually exposed to the scrutiny of politicians and media commentators, it also has its own independent watchdog in the form of the FDIC Office of Inspector General (OIG). Recently they investigated 23 lenders taken over by the regulators over a six month period starting in August 2008. In all, but three of these cases, they found reason to criticize the FDIC examiners for failing to identify problems at an early enough stage and for not introducing sufficiently strong supervision of problem banks prior to their collapse.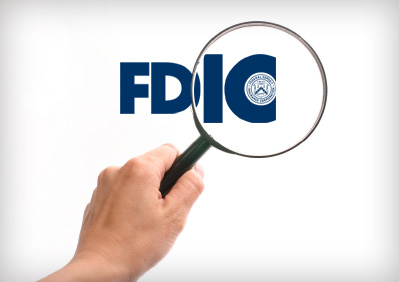 The Mission of the OIG
The role of the FDIC is well known and needs little introduction but the exact responsibilities of the OIG are much less familiar to ordinary bank customers. While their published reports are probably the most visible side of their activities a great deal of valuable work is done behind the scenes. On their website, the OIG clearly set out their mandate as verifying that the FDIC operates with the efficiency and integrity Americans expect, and its mission to stabilize and raise public confidence in the banking system demands.
OIG Strategic Goals
The OIG has six strategic goals:
Safety and Soundness – monitoring the effectiveness of the FDIC's bank supervisory activities and provide assistance in bringing to justice officials of FDIC-insured institutions who become involved in money laundering, banking secrecy violation and a range of other financial crimes.
Insurance – evaluations of programs with the aim of detecting and managing risk factors that could result in losses to the FDIC insurance fund.
Consumer protection – helping FDIC officials discharge their responsibilities to protect the rights of financial service consumers. This aspect of the OIG's work includes verifying that FDIC-insured institutions comply with consumer protection laws and investigating false misrepresentations of FDIC insurance coverage.
Receivership management – reviewing FDIC receivership management activities and their plans to resolve bank failure challenges. Fraudulent activities contributing to bank failure or impeding a bank's recovery may also be investigated.
FDIC Resources management – ensuring that the FDIC makes efficient use of its human, financial, IT and physical resources. Included in this aspect of their mission are activities such as making sure that security is maintained at the required levels, and all officials display an uncompromised integrity and confidentiality.
OIG resources management – implementing an internal review process to make certain that OIG is operating in the most efficient manner; for example, carrying out quality investigations and audits and establishing good working relationships within the organization.
At the top of the pyramid
In June 22, 2006 Mr. Jon T. Rymer was appointed to the position of Inspector General. As might be expected for the head of the OIG, he is a Certified Internal Auditor with an impressive career background in banking and accounting. Interestingly enough, he has also served 28 years in the US Army and so presumably has additional skills transferable to this very different battlefront – the war against inefficiency, irresponsibility and fraud in American banking.
Ask a Question