Is the FDIC Doing All That It Can to Save Banks?
This past week the total number of failed banks in 2009 hit 115, with 9 banks failing in a single day on Friday. With the dwindling funds of the FDIC being used to cover the lost assets of each closure, one has to hope that the agency is first making sure it has exhausted every other possible solution before it serves the bank the papers that tell it to close its doors. However, in the reports auditing many of these closures, the Office of the Inspector General (OIG) of the FDIC has suggested that had it taken earlier and more aggressive action towards some banks, it could have influenced them to take precautionary measures that might have prevented them from having to close.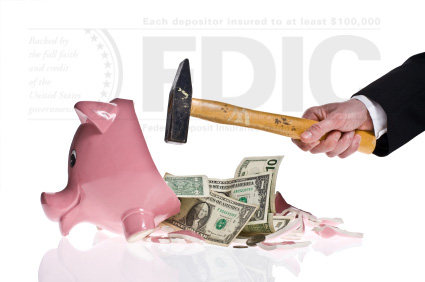 Cape Fear Bank
One example of a bank that the OIG think might have been saved by more aggressive action taken by the FDIC is Cape Fear Bank of Wilmington, North Carolina. The Material Loss Review of the bank closure by the OIG states that if the FDIC had taken a stronger supervisory stance towards the bank, such as requiring the management to commit to a certain plan or timeline, the bank might have taken the necessary action to prevent its failure. Instead, the report says that it waiting until the bank was already at serious risk of failure. It also claims that while the bank was given the classification of "adequately classified" by the Prompt Corrective Action (PCA) provisions while it really had sunk to "critically deficient" by the end of 2008.
Better Late Than Never
Of course, it is hard to tell if these alternative precautions would have been enough to keep the bank from failing, and there are many banks where a strong FDIC stance has still resulted in the failure of the bank. However, especially with the cost of failures to the FDIC, it is most important that if a bank does fail, that the FDIC is effective in limiting the cost to the Deposit Insurance Fund (DIF). During a period of such rapid and widespread failures, where it is uncertain just how many more banks will fail over the next few years, it is important that the FDIC keep as much reserve in the DIF as it can, so it can maintain insurance for consumer deposits without having to borrow money from the US Treasury, and the taxpayer.
One of the ways that the OIG suggested the FDIC remedy such shortcomings in the future is to require regular status update, to keep informed about the banks financials as well as the steps it is taking to reach the goals given to it by the FDIC. It also suggested that PCA measures, in the form of informal enforcement, be implemented before the bank becomes at serious risk of failure.
More reports on the FDIC Material Loss Reviews from the Office of the Inspector General are available on the FDIC website here.
Ask a Question