CD Rate Averages Continue to Slide Despite Economic Developments
The past few days have brought on a smattering of welcome news, not only for the US economy, but also for consumers and businesses which need good news the most. First, after months-long debate, the Senate finally passed the bill on jobless benefits extension and expansion of tax breaks for homebuyers.
Then, the latest economic data released shows that new jobless claims drop to the lowest level for this year, while the retail industry saw its second straight monthly sales gain after a year-long decline. Could consumers perhaps be opening their wallets again, finally ushering in much anticipated economic activity?
Increased economic activity is certainly something that we hope will come soon enough. Because only then would we be able to expect deposit interest rates to rise again. And this is the bit of not-so-pleasant news that prudent savers will have to deal with: the Federal Reserve announced after its policy meeting last Wednesday that it is standing by its decision to keep benchmark interest rates at near-zero levels while the economy remains weak. Nothing surprising in that, but still disappointing for those who are hoping to get more out of their extra funds.
Let's check out how much further down banks cut their CD rates in response to the Fed's pronouncement: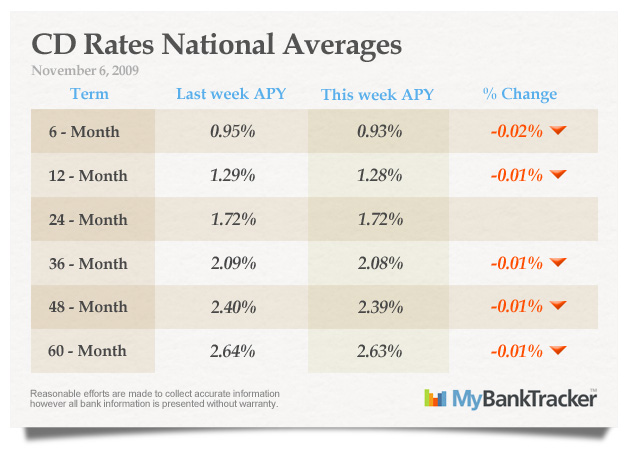 6-month CDs
CD rate averages for 6-month CDs dropped the lowest this week, although fortunately not that substantially. Inching down from 0.95% to 0.93%, the 6-month CD rate fell by 2 basis points and slid farther from the 1.00% mark.
12-month, 36-month, 48-month, and 60-month CDs
Averages for 1-year, 2-year, 4-year, and 5-year CD rates also fell, each by a single basis point. If you think that a 0.01% decrease in CD rate average isn't that much, you are quite right in that, but bear in mind too that these are some of the lowest rate levels seen in years.
24-month CDs
Only the 2-year CD rate was able to hold its own this week with the average maintained at 1.72% APY.
Bank CD Rate Cuts
In response to the recent flurry of developments, not too few banks made CD rate cuts this week and while banks lowering their CD yields are not uncommon, what could be cause for worry for savers looking to maximize their deposit yields is that the banks that made substantial rate cuts this week are those banks which offer some of the most competitive, if not the top, CD rates such as Ascencia (best 6-month CD rate), UmbrellaBank.com (best 1-year CD rate), Discover Bank, Ally, and American Express Bank.
To check if your bank has perhaps bucked the trend and instead, raised their CD yields for this week, visit our CD rates page.
Ask a Question