Mark Your Calendars: Federal Banking Holiday Schedule for 2009-2010
Don't let the holiday season find you unexpectedly locked out of your bank this year. While most people know to expect that their bank won't be open on the "big ones," there are other lesser holidays that some people will overlook, leaving them frustrated and confused when they try and visit their local branch only to find the doors locked.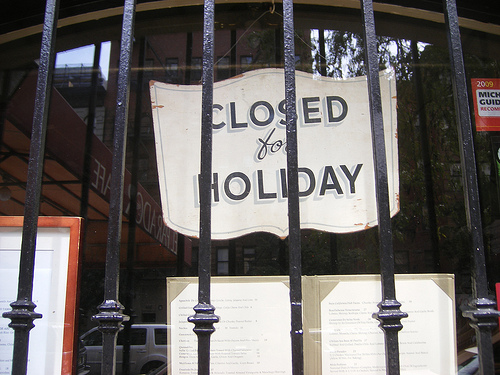 Here is a brief list of the upcoming holiday dates on which the majority of banks most likely will be closed. This list could also be useful if you are wondering why your relatives seem to be calling you an awful lot on certain days these next few months.
Veteran's Day – November 11th, 2009
Thanksgiving Day – Thursday, November 26th, 2009
Christmas Day – December 25th, 2009
New Year's Day – Friday, January 1st, 2010
Birthday of Martin Luther King, Jr. – Monday, January 18th, 2010
"Washington's Birthday" – Monday, February 15th, 2010
Fortunately, with advances in modern banking, having a closed branch doesn't affect our banking plans as much as usual; for basic banking services, we can simply do our banking online from home. However, there are some services that banks will be unable to preform due to the fact that there will be no employees available; please be sure to contact your local branch if you are unsure about what services will be available on these holidays.
Ask a Question